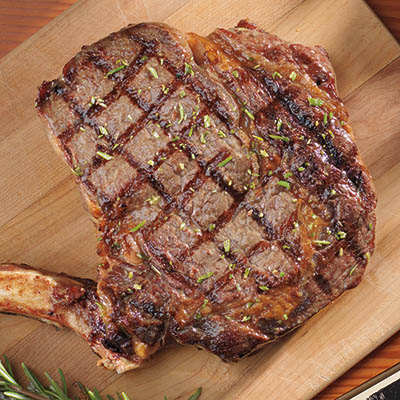 MAPLE-MUSTARD-GLAZED BONE-IN RIB EYE STEAKS
Ingredients
Serves 4 to 6
2 bone-in rib eye steaks, approximately 1-in (2.5 cm) thick, about 1 lb (500 g) each
1 tbsp (15 ml) Dijon mustard
1 tbsp (15 ml) maple syrup
1 tbsp (15 ml) balsamic vinegar
2 tsp (10 ml) minced fresh rosemary
sprigs of fresh rosemary, for garnish
Instructions
To prepare bone-in steaks, trim bones French-style.
Combine remaining ingredients in a bowl and stir to blend. Generously brush over steaks and let rest at room temperature for about 1 hour for flavours to penetrate.
Grease grill and preheat barbecue to 400 F (200 C). Place steaks on grill and close lid.
Grill for 4 minutes each side for medium rare. Longer for medium. Remove from barbecue to a cutting board and let rest, tented with foil, for 8 to 10 minutes. Garnish with rosemary sprigs.
Drink Pairings