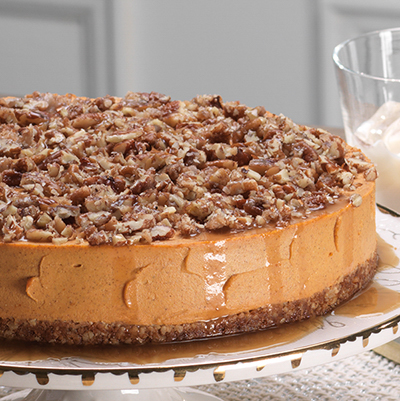 MAPLE PUMPKIN CASHEW "CHEESECAKE" WITH SALTED CARAMEL
Ingredients
Serves 10
1 cup (250 ml) raw cashews
1 cup (250 ml) pecans, divided
1 cup (250 ml) rolled oats
¼ cup (60 ml) almond flour
¼ cup (60 ml) unsweetened shredded coconut
1¾ tsp (9 ml) salt, divided
¼ cup (60 ml) coconut oil
2 tbsp (30 ml) + ¾ cup (175 ml) maple syrup, or more to taste, divided
1 x 15 oz (450 g) block firm tofu
1 x 14 oz (398 ml) can pumpkin purée
¼ cup (60 ml) + ½ cup (125 ml) coconut cream , divided
1 tsp (15 ml) agar agar (can be omitted for a softer cake)
1 tsp (5 ml) ground cinnamon
½ tsp (2.5 ml) ground cardamom
½ tsp (2.5 ml) ground nutmeg
1 tbsp (15 ml) vanilla extract
½ cup (125 ml) vegan butter
½ cup (125 ml) brown sugar
½ cup (125 ml) white sugar
1 cup (250 ml) candied pecans, for garnish
coconut whipped cream, to serve
Instructions
Preheat oven to 350 F (180 C). Line the bottom of a 9-in (2.5 L) springform cake pan with parchment paper.
Boil water and pour over raw cashews in a heatproof bowl. Set aside for 20 minutes.
To make crust, in a food processor, place pecans, oats, almond flour, shredded coconut and 1 tsp (5 ml) salt. Pulse until combined. Add coconut oil and 2 tbsp (30 ml) maple syrup and pulse again until incorporated. Mixture should stick together when pinched.
Drop mixture into cake pan. Wet hands with water and press mixture down to form an even crust. Bake for 10 minutes, rotate and bake for another 10 minutes or until golden brown and toasted. Remove and let cool completely.
While crust is cooling, make filling. Strain cashews and place into a high-speed blender with tofu, pumpkin purée, ¾ cup (175 ml) maple syrup, ¼ cup (60 ml) coconut cream, agar agar (if using), ½ tsp (2.5 ml) salt, ground cinnamon, ground cardamom, ground nutmeg, vanilla extract and lemon juice. Blend on high until silky. Line the sides of springform pan and pour pumpkin mixture on top of the crust. Smooth the top and refrigerate for a minimum of 8 hours, overnight for best results.
To make salted caramel, in a small sauce pan on medium heat, melt butter with brown and white sugar. Using a whisk, stir until sugar has dissolved completely. Turn off heat and whisk in ½ cup (125 ml) coconut cream and ¼ tsp (1 ml) salt. Pour into a small container and refrigerate until ready to serve.
To serve, crumble candied pecans over top and drizzle with salted caramel. Serve topped with coconut whipped cream.
Drink Pairings