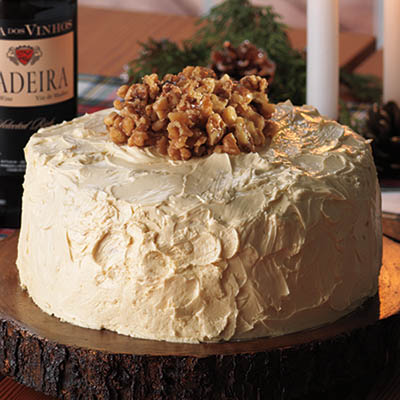 Ingredients
Serves 8 to 12
½ cup (125 ml) unsalted butter at room temperature, plus more for pans
2¾ cups (680 ml) all-purpose flour, sifted, plus more for pans
2¼ cups (560ml) maple syrup, divided
1 tbsp (15 ml) baking powder
¼ tsp (1 ml) salt + pinch of salt, divided
1 tsp (5 ml) pure vanilla extract
1½ cups (375 ml) chopped walnuts, divided
2 cups (500 ml) maple syrup
1 tsp (5 ml) vegetable oil
3 cups (750 ml) unsalted butter, at room temperature, cut into 1-in (2.5 cm) chunks
Instructions
Preheat oven to 350 F (175 C). Butter two 9-inch (2.5 L) round cake pans and dust with flour. Tap out any excess flour and set pans aside.
In a bowl, beat butter on medium speed until creamy. Add maple syrup and beat until mixed, scraping the sides of the bowl as necessary – it will stay slightly separated. Add eggs and beat until combined.
In a bowl, sift together flour, baking powder and ¼ tsp (1 ml) salt. Add flour mixture to butter mixture and beat to combine. Beat in milk and vanilla extract until combined. Stir in ¾ cup (185 ml) chopped nuts.
Divide batter equally between the 2 prepared pans. Bake until a cake tester inserted in center comes out clean, about 35 to 40 minutes. Rotate cake pans halfway through baking to ensure even baking. Transfer pans to a wire rack to cool.
Preheat a non-stick saucepan over medium-high heat. Add remaining walnuts, maple syrup and pinch of salt. Cook, stirring frequently, until syrup is caramelized and nuts are toasted, about 3 to 5 minutes. Pour nuts onto parchment paper and let cool.
Turn out cakes and slice each in 2 to create a total of 4 layers. Place 1 layer on a cake stand or platter. Spread 1¼ cups (310 ml) of maple buttercream evenly over the top. Repeat with remaining 3 layers. Spread remaining buttercream onto the sides of the cake.
Garnish by pressing maple candied walnuts on top of cake.
To make MAPLE BUTTERCREAM: In a medium saucepan, combine maple syrup and vegetable oil and bring to a boil. Cook without stirring until syrup reaches 238 F (114 C) on a candy thermometer, about 15 minutes.
In a bowl of stand mixer fitted with whip attachment, beat eggs and yolks on medium speed for 3 to 4 minutes until pale and fluffy.
When syrup is ready, remove from heat. While electric mixer is running on low speed, slowly add syrup to eggs, pouring it down the side of mixing bowl. Increase speed to medium and whip for 6 to 8 minutes until mixture turns light, fluffy and just warm to the touch. Reduce speed to low and add butter, a few chunks at a time.
Increase speed to medium and continue to whip for 2 to 3 minutes. Mixture might break and look curdled at first, but beating will make it smooth and silky.
Use immediately, or refrigerate in a container for up to a week. Bring to room temperature before using and blend until smooth.
Drink Pairings