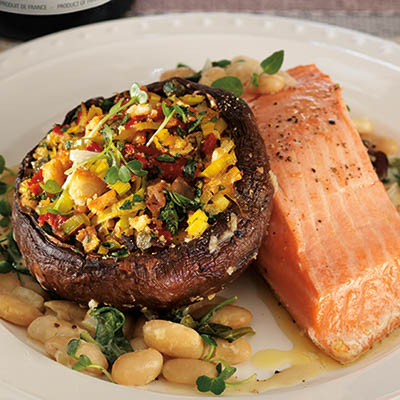 MARINATED STUFFED PORTOBELLO MUSHROOMS SERVED WITH CREAMY BEANS
Ingredients
Serves 4
4 to 8 large Portobello mushrooms, cleaned, stalks removed, diced
3 garlic cloves, minced, divided
5 tbsp (75 ml) extra-virgin olive oil, divided, plus extra
1 fresh rosemary sprig, leaves only, minced
2 or 3 slices day-old sourdough bread, torn into pieces
1 leek, white and light green parts only, thinly sliced
¾ cup (175 ml) diced, roasted red peppers
½ cup (125 ml) chopped flat-leaf parsley
1 tbsp (15 ml) capers in brine, drained, rinsed and chopped
salt and freshly ground black pepper, to taste
2 tbsp (30 ml) unsalted butter or coconut oil
1 small yellow onion, diced
1 x 19 oz (540 ml) can white kidney or navy beans, drained
½ cup (125 ml) vegetable stock
½ tsp (2 ml) finely grated lemon zest
2 tsp (10 ml) Dijon mustard
3 tbsp (45 ml) whipping cream
2 cups (500 ml) baby spinach
4 x 5 oz (140 g) salmon fillets, skin on (optional)
micro greens, for garnish
Instructions
Preheat oven to 350 F (180 C).
Place mushroom caps in a shallow baking dish large enough to accommodate in a single layer. In a medium-sized bowl, stir together 2 minced garlic cloves, 4 tbsp (60 ml) olive oil, wine and rosemary. Pour over mushrooms and set aside to marinate, turning occasionally, for 30 minutes.
Meanwhile, make mushroom stuffing. In a food processor, pulse bread until chopped into ¼-in (1 cm) pieces. You should have about ½ cup (125 ml) bread crumbs. Reserve any remaining for another use.
In a large frying pan, warm remaining 1 tbsp (15 ml) olive oil over medium heat. Add leek and cook until softened and just starting to brown, about 5 minutes. Stir in roasted peppers and diced mushroom stalks and cook, stirring, until all liquid has evaporated, about 3 minutes. Remove frying pan from heat and stir in parsley, capers, reserved ½ cup (125 ml) bread crumbs and 1 tbsp (15 ml) mushroom marinading liquid. Season stuffing to taste with salt and pepper.
Spoon stuffing into mushrooms, gill-side up, in baking dish and bake in oven until warm and stuffing is lightly browned, about 15 to 20 minutes.
Meanwhile, melt butter in a medium-sized saucepan over medium heat. Add onion and sauté until softened but not browned, about 5 to 8 minutes. Stir in drained beans and vegetable stock. Bring to a simmer and cook gently for 5 minutes, stirring occasionally, before folding in lemon zest, mustard, whipping cream and spinach. Season to taste with salt and pepper, cover with lid, then remove from heat and set aside.
If using salmon, warm a large frying pan or grill pan over medium- high heat. Brush salmon fillets liberally with olive oil and season generously with salt and pepper. Add salmon, skin-side down, and cook about 3 to 4 minutes. Flip over and finish cooking on other side, about 1 to 2 minutes.
To serve, divide creamy beans among serving plates. Top with a stuffed mushroom and a piece of salmon, if using. Drizzle any remaining sauce from beans over salmon and around plate. Garnish with a sprinkle of micro greens and serve immediately.
Drink Pairings