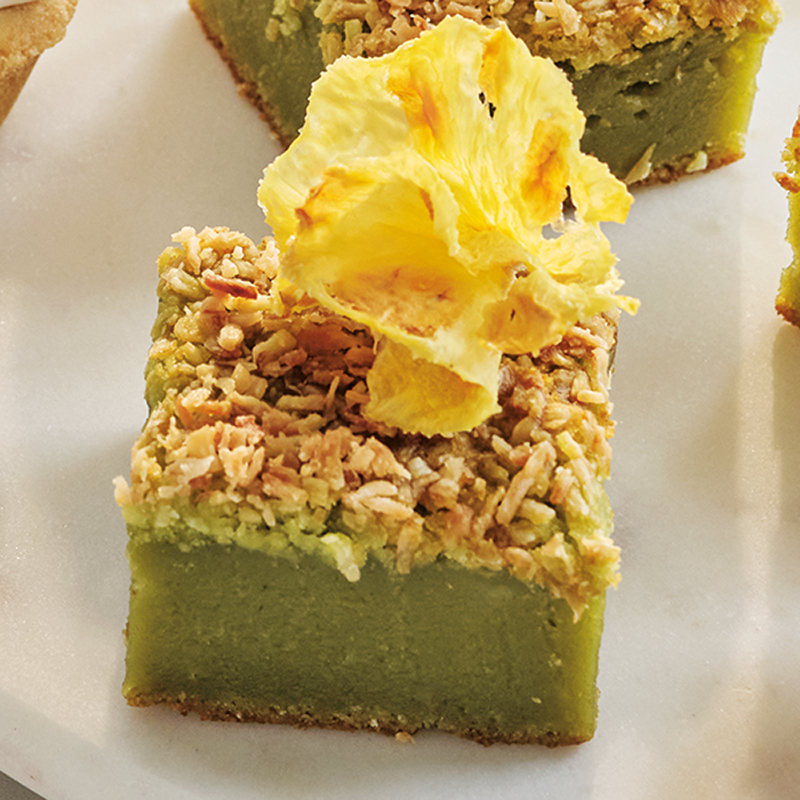 Ingredients
Serves 24
cooking spray, for greasing
2 tsp (10 ml) vanilla extract
2 cups (500 ml) whole milk
2 cups (500 ml) granulated sugar
1½ tbsp (22 ml) matcha powder
1 lb (500 g) sweet rice flour
2 tsp (10 ml) baking powder
½ tsp (2.5 ml) kosher salt
½ cup (125 ml) unsalted butter, melted
1 x 14 oz (400 ml) can coconut milk
½ cup (125 ml) unsweetened shredded coconut
½ tsp (2.5 ml) Maldon sea salt flakes
Dried Pineapple Flowers, for garnish, make ahead, recipe follows (optional)
½ small pineapple, trimmed and skin removed
Instructions
Preheat oven to 350 F (180 C). Spray a 9 x 13-in (23 x 33 cm) baking sheet generously with cooking spray. Set aside.
In a medium bowl, whisk together eggs, vanilla and milk. In a large bowl, whisk together sugar and matcha until well combined. Whisk in sweet rice flour, baking powder and kosher salt. Pour egg and milk mixture into dry mixture, stirring with a wooden spoon or rubber spatula until well combined. Add melted butter and coconut milk and stir together until fully incorporated. Pour batter into prepared pan and rap pan on work surface a couple of times to release any air bubbles. Evenly sprinkle shredded coconut and Maldon salt on top.
Being careful not to jiggle pan too much so coconut does not sink into batter, gently transfer to oven and bake until mochi is set and golden brown on top, about 1 hour. Set pan on a wire rack to cool completely to room temperature. With an oiled knife (to minimize sticking), cut mochi into 24 pieces. Mochi pieces may be stored for up to 3 days in an airtight container at room temperature.
To serve, transfer mochi to a serving platter and top each piece with a Dried Pineapple Flower, if using.
To prepare Dried Pineapple Flowers, Preheat oven to 200 F (93 C). Place a large wire cooling rack over a large baking sheet and set aside.
Using a very sharp knife or mandoline, slice pineapple crosswise into very thin rounds. Set slices on a paper towel-lined baking sheet and pat dry with additional paper towel to remove as much moisture as possible. Carefully lay as many slices of pineapple as will fit on cooling rack set over baking sheet, taking care not to overlap them. Transfer to oven and allow to dry out for 1½ to 2½ hours, until slices are dried and crisp on edges, but still malleable. Remove dried pineapple slices from oven one at a time, pinching together centre of slice to create a ruffled petal look, and place each slice inside the cup of a mini muffin pan. Allow slices to fully dry in muffin pan so they will hold a flower shape. Repeat with remaining pineapple slices. Dried pineapple flowers will keep in an airtight container for up to 1 week at room temperature.
Drink Pairings