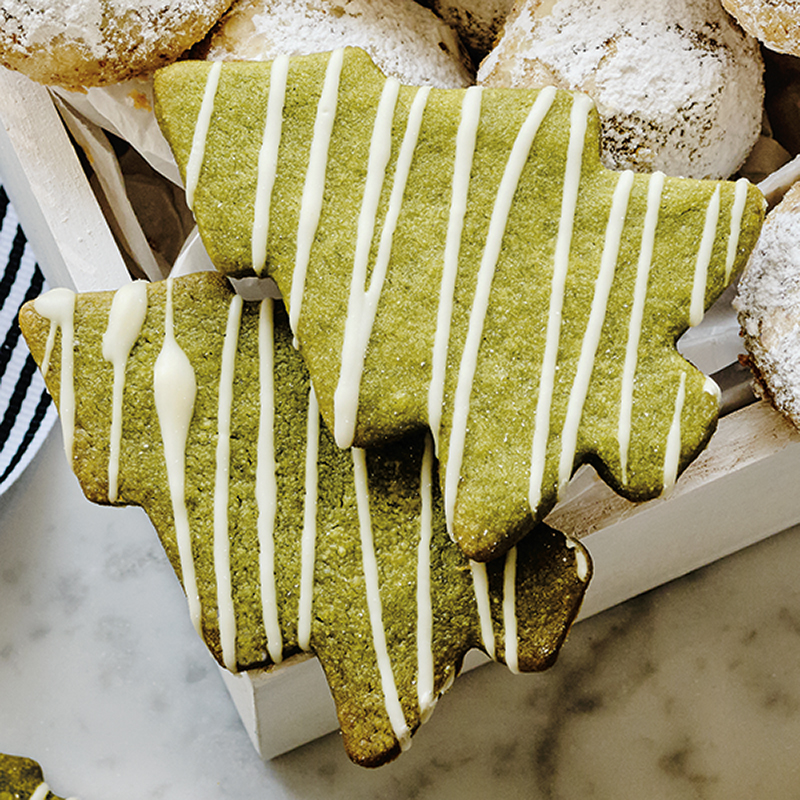 MATCHA TREES
How about a Do-It-Yourself gift box? Fill your gift boxes with some homemade delicious treats. It's a gift you can make, pack, pair and share!
Ingredients
Serves 18 - 20 trees
1 cup (250 ml) unsalted butter, room temperature
¾ cup (175 ml) icing sugar
2 tbsp (30 ml) matcha tea powder (unsweetened)
1¾ cups (425 ml) flour, plus more for rolling
1 cup (250 ml) white chocolate chips
Instructions
In a large mixing bowl, use an electric hand mixer to cream together butter, sugar, salt and matcha powder until fluffy and pale green, about 3 to 5 minutes. Using a spatula, add flour and combine to form a dough. Using hands, mould dough into a 1½-in (3.75 cm) thick disk. Wrap dough in plastic wrap and refrigerate for 1 hour.
Preheat oven to 350 F (180 C). Line 2 cookie sheets with parchment paper and set aside.
Remove dough from refrigerator and discard plastic wrap. Place on a lightly floured dry working space. Dust top of dough lightly with flour and, using a rolling pin, roll dough into a large ¼-in (0.5 cm) thick circle. Continue to dust surface of dough if rolling pin begins to stick.
Using a tree-shaped cookie cutter, cut out as many cookies as you can. Transfer onto lined baking sheet. Bake until cooked through, about 10 to 12 minutes. Place on a wire cooling rack with a baking sheet underneath to catch excess chocolate. Allow to cool completely.
In a small microwave-safe bowl, microwave white chocolate chips and coconut oil for 30 seconds. Remove and stir. If chocolate needs to melt more, microwave for another 20 seconds.
Using a spoon, drizzle chocolate over cookies in a side-to-side motion. Allow to cool. Store in an airtight container for up to 4 days.
Drink Pairings