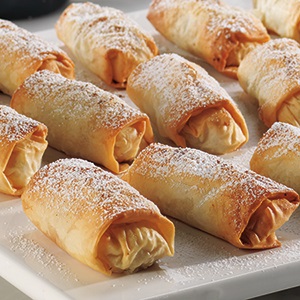 MEDITERRANEAN SPINACH AND CHICKEN PHYLLO BITES
Ingredients
Serves 54 bites
½ cup (125 ml) whole blanched almonds, toasted
¼ cup (60 ml) olive oil, divided
1 boneless, skinless chicken breast
salt and pepper, to taste
1 medium yellow onion, finely chopped
½ tsp (2 ml) ground ginger
¼ tsp (1 ml) ground turmeric
1 tsp (5 ml) ground cinnamon, plus more for garnish
2 cups (500 ml) fresh spinach, chopped
2 large eggs, lightly beaten
12 sheets thawed phyllo dough
½ cup (125 ml) unsalted butter, melted, plus extra if needed
Instructions
Add almonds to bowl of a food processor fitted with metal blade and pulse until finely ground. Place in a large bowl and set aside.
Heat 1 tbsp (15 ml) oil in a medium frying pan over medium heat. Season chicken with salt and pepper before adding to pan and cook, turning once, until cooked through, about 5 minutes per side. Transfer to a plate to cool slightly before finely chopping and adding to bowl along with ground almonds.
Wipe out frying pan. Add remaining 3 tbsp (45 ml) oil and place over medium heat. Add onion and sauté until softened, about 4 minutes. Add garlic, ginger, turmeric and cinnamon, cooking until fragrant, about 1 minute. Stir in spinach and cook until wilted and pan is cooked dry, about 5 minutes. Add eggs and cook, stirring until scrambled but still moist. Add spinach mixture to bowl with chicken mixture. Season to taste with salt and pepper. Fold together until well combined.
On a clean work surface, unfold 1 sheet of phyllo with short side facing you. Cover remaining sheets with a damp kitchen towel. Lightly brush with melted butter before placing another phyllo sheet on top brushing with more butter. Cut phyllo stack lengthwise into thirds and then crosswise into thirds making 9 equal rectangles.
Working with 1 rectangle at a time, place 1 tbsp (15 ml) chicken mixture about ½-in (1.25 cm) from end of short side while leaving ½-in (1.25 cm) border along either long side. Fold each long side over filling, then starting from end with filling, roll up filling inside phyllo. Repeat process with remaining phyllo and filling. Brush top of each bite with butter before arranging, seam-sides down, on parchment-lined baking sheets. At this point, bites may be frozen until solid, about 1 hour, before transferring to an airtight container. Can be frozen for up to 5 weeks.
When ready to serve, preheat oven to 425 F (220 C). Arrange phyllo bites on a baking sheet and warm in oven until golden brown and heated through, about 12 to 15 minutes. Let cool slightly before lightly dusting with icing sugar and extra cinnamon. Serve on a platter while still warm.
Drink Pairings