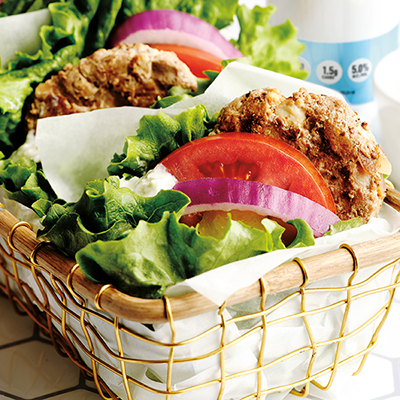 MEDITERRANEAN TURKEY BURGER
Ingredients
Serves 4
2 tbsp (30 ml) sunflower oil, divided
3 garlic cloves, minced, divided
1 lb (500 g) ground turkey
½ cup (125 ml) crumbled feta cheese
1 tbsp (15 ml) Dijon mustard
salt and pepper, to taste
1 cup (250 ml) plain Greek yogurt
¼ cup (60 ml) grated cucumber
¼ cup (60 ml) chopped mint leaves
8 large leaves iceberg or curly lettuce
Instructions
In a skillet over medium heat, heat 1 tbsp (15 ml) oil. Sauté onion and 2 minced garlic cloves until translucent, about 5 to 8 minutes. Set aside and allow to cool.
In a large bowl, combine ground turkey, feta, mustard and paprika. Add in onion mixture and season with salt and pepper. Mix until well incorporated, then divide into 4 equal portions and gently form into patties about 4-in (10 cm) in diameter.
To make tzatziki, in a small mixing bowl, combine yogurt, remaining minced garlic clove, lemon zest and half the lemon juice, cucumber and mint. Season to taste with salt and pepper, and add more lemon juice, if desired. Will keep for up to 1 week in refrigerator.
Preheat a cast iron pan or barbecue to medium-high (if using cast iron, add remaining 1 tbsp (15 ml) oil; if using barbecue, grease grill). Grill for 6 to 8 minutes per side, or until internal temperature reaches 165 F (74 C).
To serve, on a large platter, set out tzatziki, burgers, lettuce and burger toppings. Assemble burgers with desired toppings, using lettuce as a "bun".
Drink Pairings