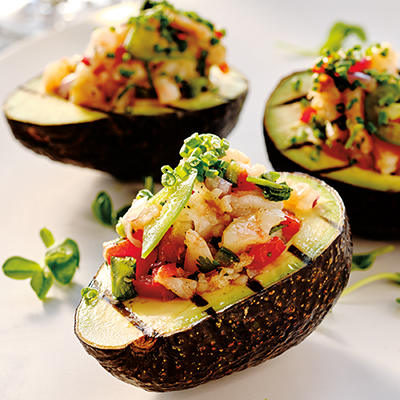 Mexican Shrimp-Stuffed Avocados
Ingredients
Serves 4
1 tsp (5 ml) ground cumin
1 tbsp (15 ml) sunflower oil
¾ lb (340 g) large raw shrimp, peeled and deveined
salt and pepper, to taste
½ jalapeño, diced, or to taste
¼ cup (60 ml) diced red onion
¼ cup (60 ml) diced red pepper
¼ cup (60 ml) chopped cilantro leaves
2 tbsp (30 ml) chopped chives
4 lime wedges, for garnish
Instructions
Preheat barbecue to medium-high.
In a small bowl, mix together garlic, lime zest, cumin and oil. Add shrimp and stir to coat. Season with a pinch each of salt and pepper and refrigerate for 15 to 20 minutes.
In another bowl, combine jalapeño, onion and red pepper. Set aside.
Slice into avocados lengthways from each side until knife hits the pit. Twist halves apart and gently remove pits. Using a small spoon, scoop out about 1 tbsp (15 ml) avocado where the pit was to create a slightly larger hollow. Chop excess avocado and add to jalapeño mixture, if desired, or enjoy as a snack while cooking!
Lightly grease barbecue, then grill shrimp until opaque (about 2 minutes per side). Remove from heat and set aside. Grill avocados (with skins still on), flesh side down, for 1 to 2 minutes (on flesh side only), until grill marks are achieved. Remove from heat.
Cut shrimp into bite-size pieces and add to jalapeño mixture along with lime juice and cilantro. Season with salt and pepper to taste. Scoop a heaping spoonful into each avocado, sprinkle with chives and serve with lime wedges on the side.
Drink Pairings