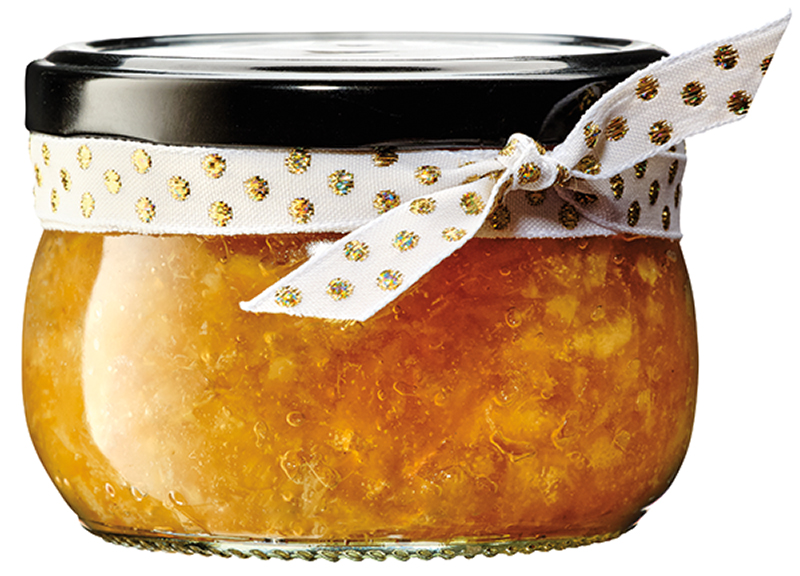 MEYER LEMON & CHAMPAGNE PRESERVES
This delicious homemade preserve is the perfect accompaniment to your holiday entertaining spread. Wrap up a jar or two in a curated gift box of edible treats and you are sure to be the gifting superstar this year!
Ingredients
Serves 2½ cups (625 ml)
1½ lbs (750 g) Meyer lemons, or thin-skinned regular lemons, scrubbed, ends trimmed, very thinly sliced, seeds removed
2 to 2½ cups (500 to 625 g) granulated sugar, approximately
½ cup (125 ml) freshly squeezed lemon juice
1¼ cups (310 ml) Champagne
Instructions
In a medium, heavy-bottomed, non-reactive pan, combine lemon slices and enough cold water just to cover. Bring to a medium-high simmer and cook for 10 minutes. Drain and repeat this step one more time. Allow lemons to cool, then pat dry.
Place lemon slices in bowl of a food processor fitted with a metal blade. Pulse several times or until mixture is fairly smooth, with some small chunks of lemon remaining. Remove lemons and weigh them using a kitchen scale. Return lemons to large saucepan. Weigh out the exact same amount of granulated sugar as lemons and add to saucepan along with lemon juice and champagne. Stir well.
Over medium-high heat, bring mixture to a boil, reducing heat if necessary to avoid scorching lemons. Reduce heat to medium-low and cook mixture for about 30 to 40 minutes, stirring often. Continue cooking until preserves thicken and become jamlike.
Remove from heat and immediately spoon into sterilized jars. Wipe rims of jars clean and seal. Cool for 1 hour and store in refrigerator for up to 3 weeks. Use as a condiment on cheese and charcuterie boards, or on toast and scones.
Drink Pairings