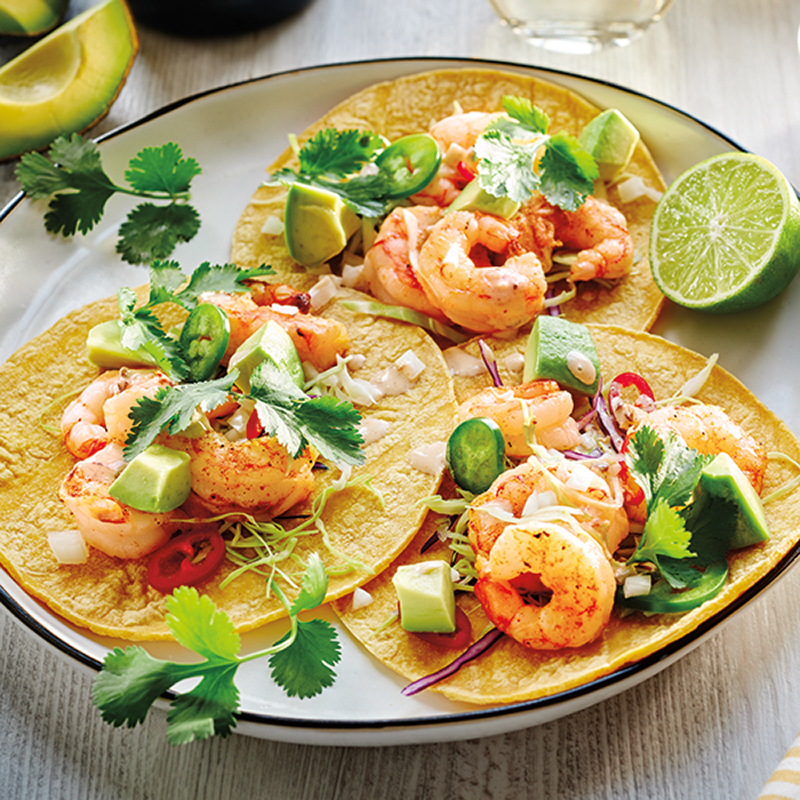 Ingredients
Serves 4
3 tbsp (45 ml) white wine vinegar
2 tbsp (30 ml) granulated sugar
1 tsp (5 ml) salt, plus extra to taste
36 peeled and deveined prawns, dried well with a paper towel
2 tbsp (30 ml) mezcal (or use reposado tequila)
½ cup (125 ml) crema (or sour cream)
1 tbsp (15 ml) chilies in adobo, chopped
1 tbsp (15 ml) extra-virgin olive oil
1 avocado, peeled, pitted and cut into 1-in (2.5 cm) chunks
1 handful cilantro leaves
¼ small red cabbage, thinly shaved
1 jalapeño or serrano chili, thinly sliced
12 corn tortillas, warmed according to package instructions
Instructions
To make pickled onions, thinly slice half the onion, chop remaining onion and set aside for later. In a jar, mix vinegar, water, sugar and salt until sugar and salt have dissolved. Add sliced onions to liquid and refrigerate for at least 1 hour, or up to 5 days.
To make mezcal prawns, in a medium bowl, mix prawns, mezcal, cumin, honey and salt to taste. Let marinate in refrigerator for 10 to 15 minutes.
In a small bowl, mix crema and chilies. Season to taste with salt and pepper and set aside.
Heat a non-stick pan over medium heat. Add ½ tbsp (7.5 ml) olive oil and half the prawns and cook for 2 to 3 minutes, or until opaque all the way through, flipping halfway through cooking. Transfer to a platter. Cook remaining prawns, then toss with juice of 1 lime. Quarter remaining limes.
To assemble tacos, place 3 prawns per tortilla, top with prepared toppings: avocado, cilantro, cabbage, jalapeños, crema mixture and pickled onions.
Drink Pairings