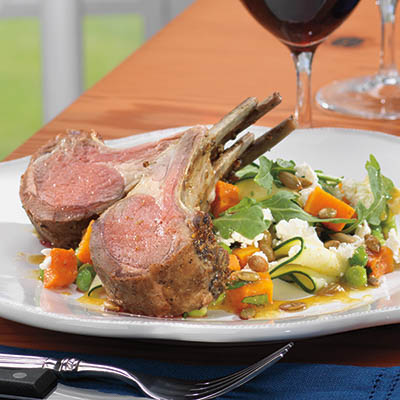 MIDDLE EASTERN FLAVOURED LAMB CHOPS
Ingredients
Serves 4
2 x 8 rib rack of lamb, about 3 to 4 lbs (750 g to 1 kg) Frenched
2 tbsp (30 ml) lemon juice
2 tsp (10 ml) garam masala
2 tsp (10 ml) garlic paste
freshly ground black pepper, to taste
2 tbsp (30 ml) vegetable oil
2 tbsp (30 ml) unsalted butter
2 tbsp (30 ml) extra-virgin olive oil
1 tbsp (15 ml) lime juice
½ tsp (2 ml) garlic paste
½ tsp (2 ml) each of ground cumin and coriander
salt and freshly ground black pepper
2 cups (500 ml) butternut squash, diced ½-in (1.25 cm)
1 tbsp (15 ml) extra-virgin olive oil
½ tsp (2 ml) ground cumin
salt and freshly ground black pepper
1½ cups (750 ml) green chickpeas, rinsed and drained
1 zucchini, shaved lengthwise
¼ cup (60 ml) crumbled feta
¼ cup (60 ml) chopped cilantro
1 cup (250 ml) lightly packed baby arugula
¼ cup (60 ml) toasted and salted pepitas
Instructions
To make LAMB CHOPS: Cut rack of lamb in half through the centre chops. Blot rack of lamb dry. Combine lemon juice, garam masala, garlic paste and salt in a small bowl. Stir to blend, then rub into lamb. Generously coat racks with freshly ground black pepper. Refrigerate for 45 minutes to 2 hours for seasoning to seal chops.
Using a heavy-bottomed frying pan such as a cast iron pan, heat oil over medium-high until it begins to shimmer. Place lamb racks, fat side down in hot pan and cook, turning occasionally with tongs until they begin to turn golden, about 4 minutes. Add butter and reduce heat to medium. Continue browning, basting the inner curve of the racks with browned butter juices, turning often, until lamb is a deep golden brown.
Lamb should read 120 F (49 C) on a meat thermometer for mediumrare when inserted into the thickest part of the rack. For medium, cook 4 or 5 minutes longer or until it registers 130 F (54 C) when tested.
Transfer lamb to a rack set over a rimmed baking sheet to catch any drips and let rest for 5 minutes before carving into chops and serving with Summer Squash Salad.
To make DRESSING: In a bowl whisk together all dressing ingredients and set aside.
To make SALAD: Preheat oven to 375 F (190 C). Toss squash with olive oil and season with ground cumin and salt and pepper to taste. Spread out in a baking dish large enough to hold cubes in a single layer. Bake in oven for 15 minutes or until cubes are tender when pierced but still hold their shape. Remove and set aside to cool.
When squash is fully cooled, place in a large bowl along with chickpeas and shaved zucchini. Drizzle dressing over squash mixture and gently toss together to coat. Fold in feta and chopped cilantro.
Top with arugula and pepitas. Serve at room temperature with seared lamb chops.
Drink Pairings