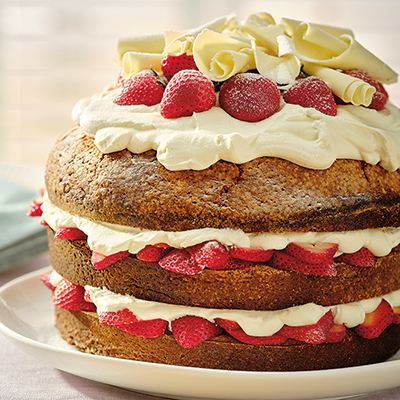 Mile-High Butter Cake with White Chocolate Ganache and Strawberries
Ingredients
Serves 10
2 cups (500 ml) unsalted butter, cubed, room temperature, plus extra for greasing
4 cups (1 L) all-purpose flour, plus extra for dusting
1 tbsp (15 ml) + 1 tsp (5 ml) baking powder
3 cups (750 ml) fine berry sugar, plus extra for dusting
8 large eggs, room temperature
1½ tsp (7 ml) pure almond extract
1 tsp (5 ml) pure vanilla extract
1 cup (250 ml) whole milk
2 cups (500 ml) whipping cream, divided
6 oz (180 g) white chocolate chunks or chips
2 cups (500 ml) whole fresh strawberries
1½ cups (375 ml) sliced fresh strawberries
white chocolate curls, for garnish (optional)
Instructions
Preheat oven to 325 F (170 C). Grease a 10 x 8 x 4-in (25 x 20 x 10 cm) angel food cake pan with removable bottom and lightly dust with flour. Set aside.
Measure flour by spooning into a measuring cup and using back of a knife to level off top. Sift flour and baking powder into a medium bowl. Set aside. In a mixer fitted with a very large mixing bowl and paddle, cream butter at medium speed, adding in several cubes at a time. Gradually beat in sugar, scraping down sides of bowl with spatula, until creamy. Add eggs 1 at a time and mix until combined and creamy.
Mix in almond and vanilla extracts. Then beat in flour and baking powder, alternating with milk, until batter is creamy and smooth. Transfer to an angel food cake pan and tap bottom of pan on counter to remove any air pockets. Smooth top with spatula. Bake for 1 hour, 15 minutes, adding 5-minute increments, if necessary, until a cake tester inserted into centre comes out almost clean. Remove to a rack to cool for 30 minutes. Then run a long knife around the inside of the pan to loosen cake from sides. Remove sides and then bottom of cake pan and cool cake completely. Wrap and refrigerate until ready to frost and serve.
Make white chocolate ganache by heating and stirring ½ cup (125 ml) cream and white chocolate together in a double boiler over medium heat until no lumps remain. Alternatively, place in a glass bowl and heat in a microwave at medium power in 30-second intervals, stirring occasionally, until mixture is smooth. Cool to room temperature then refrigerate for several hours or overnight, until thick like spreadable butter. Pour remaining cream into chilled bowl of a stand mixer fitted with a wire whisk. Whip at medium speed until soft peaks form. Gradually whip in creamy refrigerated ganache until frosting holds firm but smooth peaks form when whisk is lifted.
Cut cake horizontally into 3 layers, each approximately 1-in (2.5 cm) thick. Spread bottom and centre layers with two-thirds of ganache, then top with sliced strawberries. Place final layer on top and swirl with remaining ganache. Scatter with whole strawberries and garnish with white chocolate curls, if using. Dust with a little berry sugar. Can be refrigerated for a couple hours, until ready to serve.
Drink Pairings