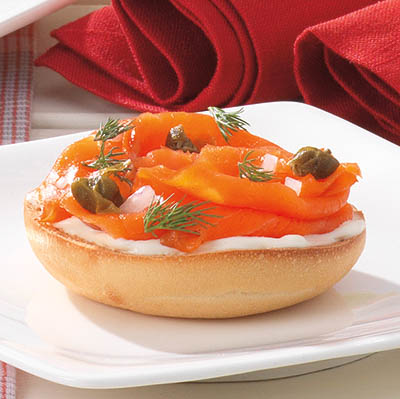 MINI BAGELS WITH HERBED CREAM CHEESE, SALMON, RED ONIONS AND CAPERS
Ingredients
Serves 6
6 mini bagels, cut in half
6 tbsp (90 ml) cream cheese
2 tbsp (30 ml) red onion, finely chopped
2 tbsp (30 ml) dill, picked
freshly ground pepper, to taste
Instructions
Fill a small saucepan with oil, about 1-inch (2.5 cm) full. Heat the oil over medium heat to about 375 F (190 C).
Drain and dry the capers. Fry capers in the oil until they have burst open and are crisp. Remove from the oil and drain. Set aside.
Toast bagels under the broiler until they are golden brown. Remove from the oven and spread cream cheese on toasted bagel halves. Add lox to each bagel half, ensuring it is evenly divided. Sprinkle with lemon juice and garnish with red onion, crispy capers, dill and pepper.
Drink Pairings