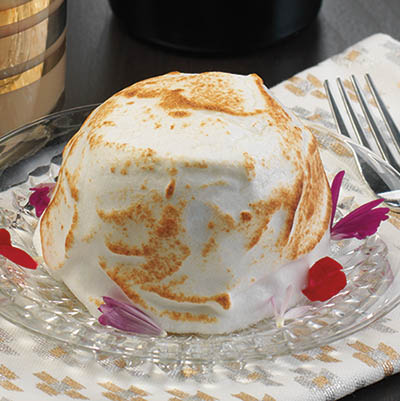 Ingredients
Serves 8
1 x 6-in (15 cm) vanilla sponge or pound cake
2 x 16 oz tubs (2 x 500 g) vanilla ice cream, softened
¼ cup (60 ml) cherry jam, divided
½ cup (125 ml) bourbon cherries, or canned cherries
1 cup (250 ml) white sugar
Instructions
Cut sponge cake horizontally into ¼-in (0.5 cm) slices. Cut rounds out of slices the same size as the opening of a silicon muffin mould. Set aside.
In a mixer with a paddle attachment, mix the softened ice cream with half of the cherry jam and 1 tbsp (15 ml) of the bourbon the cherries were packed in (omit if using canned cherries).
Fill the muffin moulds with the cherry ice cream, leaving ½-in (1.25 cm) space at the top. Put 3 cherries in each muffin mould and push into ice cream. Top each muffin mould with a cake round. Freeze overnight or longer.
To make MERINGUE: Make the meringue just before serving. In a glass or metal bowl, mix egg whites and sugar. Place the bowl over a pot of simmering water and heat until sugar has mainly dissolved and egg whites are slightly warm. Stir egg whites while heating so they don't cook.
Transfer egg white mixture to bowl of mixer. Whip with the whip attachment until stiff peaks form.
Turn out ice cream from the muffin moulds. Cover each ice cream cake with about ¼ cup (60 ml) of meringue. Use a knife or an offset spatula to create peaks all over the cakes. Brown with a blowtorch until lightly browned all over and serve immediately.
Drink Pairings