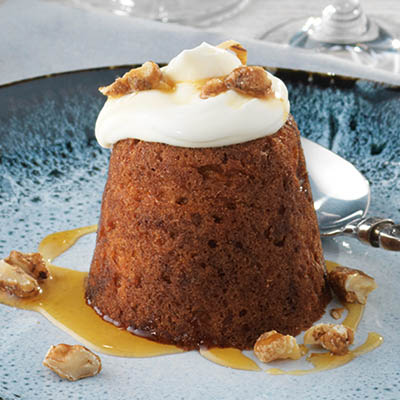 Ingredients
Serves 12 mini cakes
1 cup (250 ml) all-purpose flour
1½ cups (375 ml) granulated sugar
1 tsp (5 ml) ground cinnamon
¼ tsp (1 ml) ground cardamom
¼ tsp (1 ml) ground cloves
5 cups (1.25 L) shredded carrots
½ cup (125 ml) vegetable oil
1 tsp (5 ml) vanilla extract
2 cups (500 ml) crème fraîche
½ cup (125 ml) icing sugar
¼ cup (60 ml) maple syrup
¼ cup (60 ml) toasted chopped walnuts
Instructions
Preheat oven to 350 F (180 C) and grease cups of a 12-piece popover pan. If you do not have a popover pan, you can use any mini cake mould, or a muffin tin.
In a mixing bowl, combine flour, sugar, baking soda, cinnamon, salt, ground cardamom and cloves.
In a separate bowl, mix carrots, eggs, vegetable oil, vanilla extract and orange zest. Add the wet ingredients to dry ingredients and mix until combined – a few lumps are ok. The batter will be thick.
Divide batter between popover moulds and bake for 20 to 25 minutes, or until a cake tester comes out clean. Rotate pan halfway through baking. Let cakes cool and remove from pan. Trim cakes so they sit flat (the "muffin top" becomes the bottom of cake).
In a chilled metal or glass bowl, whip the crème fraîche with icing sugar until soft peaks form. Spread crème fraîche on cakes, drizzle with maple syrup and top with walnuts.
Drink Pairings