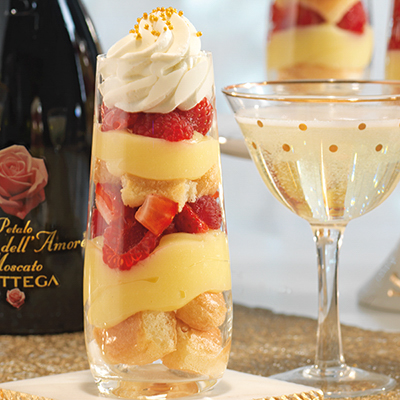 Ingredients
Serves 8
2½ cups (625 ml) Champagne or white sparkling wine, divided
2¼ cups (560 ml) whole milk
½ vanilla bean, cut in half lengthwise, seeds scraped out
¾ cup (175 ml) granulated sugar
6 large egg yolks, lightly beaten
3 tbsp (45 ml) unsalted butter
½ cup (125 ml) whipping cream
2 tbsp (30 ml) icing sugar
2 tbsp (30 ml) skim milk powder
16 to 20 ladyfingers cookies
½ lb (250 g) strawberries, diced
½ lb (250 g) raspberries, cut in half
gold sprinkles, for garnish (optional)
Instructions
In a medium saucepan, pour 1½ cups (375 ml) Champagne. Place over medium-high heat and reduce to 6 tbsp (90 ml). Reduce heat to medium and whisk in whole milk, vanilla bean seeds, granulated sugar and egg yolks until well combined. Add cornstarch and, while whisking continuously, cook until thickened and lightly boiling. Continue to cook custard for 2 minutes, stirring constantly. Remove from heat and whisk in butter. Transfer to a bowl, cover with plastic wrap and refrigerate until chilled. Transfer to a piping bag and refrigerate until ready to use.
In a large bowl, whip together whipping cream, icing sugar and skim milk powder with a hand mixer until stiff peaks form. Place in a piping bag and refrigerate until ready to use.
To assemble, in a bowl, add remaining 1 cup (250 ml) Champagne. Break up ladyfingers into bite-sized pieces. Working with 1 cookie piece at a time, quickly dunk in Champagne before putting 4 to 5 pieces in bottom of each of 8 stemless Champagne flutes. Top with a layer of about 2 tbsp (30 ml) of custard then about 2 tbsp (30 ml) combined of strawberries and raspberries. Continue building trifles with another layer of dipped cookies, custard and berries. Top each trifle with whipped cream and gold sprinkles, if desired. Refrigerate at least 1 hour and up to 4 hours before serving.
Drink Pairings