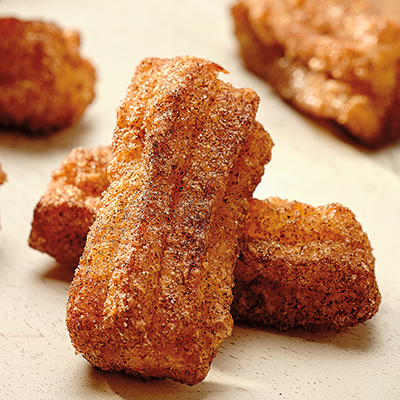 Mini Churros with Dulce de Leche and Spicy Dark Chocolate Sauce
Ingredients
Serves 8
⅓ cup (75 ml) + 2 tbsp (30 ml) unsalted butter
2 tbsp (30 ml) + ½ cup (125 ml) granulated sugar, divided
1 cup (250 ml) all-purpose flour
2 tbsp (30 ml) ground cinnamon
2 cups (500 ml) vegetable oil
1 x 14 oz (398 ml) can sweetened condensed milk, label removed
FOR SPICY DARK CHOCOLATE SAUCE:
¾ cup (175 ml) dark chocolate chips
¾ cup (175 ml) whipping cream
Instructions
In a medium saucepan, melt butter, then add 1 cup (250 ml) water, salt and 2 tbsp (30 ml) sugar. Bring to a boil. Stir in flour with a wooden spoon until a thick dough ball forms, about 10 to 30 seconds. Remove from heat and place dough in a large mixing bowl. Allow to cool.
Once cooled, using an electric mixer, beat in eggs one at a time until combined, then add vanilla. Transfer mixture to a piping bag fitted with a medium-sized star tip and refrigerate for at least 30 minutes. (Star tip is key – churros will not fully cook inside or crisp up without it. Ateco brand #826 or equivalent is ideal, but a slightly smaller star tip will work too.)
In a large mixing bowl, mix ½ cup (125 ml) sugar with cinnamon.
In a medium saucepan or deep cast iron pan over medium heat, heat oil to 375 F (190 C), or until small ripples form. Holding piping bag a few inches over the oil, carefully pipe four to five 2-in (5 cm) to 3-in (8 cm) dough ropes directly into oil, using kitchen scissors to cut off each rope. Fry for 5 to 8 minutes, or until golden brown. Repeat with remaining dough.
Remove churros from oil and place directly into cinnamon-sugar mixture, tossing to coat. Allow to rest on a wire rack for 10 minutes. Serve warm, with Dulce de Leche and Spicy Dark Chocolate Sauce for dipping.
To make Dulce de Leche, place unopened can of condensed milk in a medium saucepan with plenty of water to cover. Bring water to a boil and reduce to a slight simmer. Cook for 2½ to 3 hours, monitoring it closely, making sure can is always submerged. It is very important to keep a close eye on it to ensure water level stays above the can, topping up if necessary. The longer the cooking time, the richer the caramel flavour, but if cooked for over 3 hours it will become too thick. Remove from heat and allow to cool completely before opening, at least 1 hour. Safety alert: Do not open can while still hot, or you risk a bubbling-hot sauce.
Once cooled completely, carefully open can and pour condensed milk into a bowl and add vanilla and salt. Serve warm, reheating if necessary. Will keep for up to 1 week in refrigerator.
To make Spicy Dark Chocolate Sauce, place chocolate chips in a heatproof bowl. In a small saucepan, bring cream to a simmer, then pour over chocolate chips and allow to sit for about 3 minutes. Add cayenne and whisk continuously until chocolate has melted and sauce has come together. Serve warm.
Drink Pairings