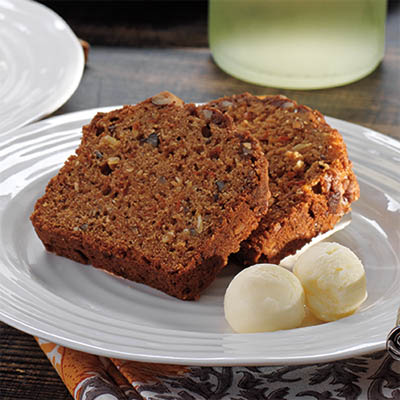 MINI COCONUT CARROT LOAVES
Ingredients
Serves 3 loaves
¼ cup (60 ml) coconut sugar
¼ cup (60 ml) all-purpose flour
¼ cup (60 ml) chopped pecans
¼ cup (60 ml) unsalted butter, softened
2 cups (500 ml) grated carrots
1 cup (250 ml) coconut sugar
⅔ cup (175 ml) coconut oil, melted and cooled
1 tsp (5 ml) finely grated orange peel
2½ cups (625 ml) all-purpose flour
1 tsp (5 ml) baking powder
generous pinches each ground cloves and nutmeg
½ cup (125 ml) sweetened shredded coconut
½ cup (125 ml) chopped pecans, toasted
Instructions
To make TOPPING: Combine topping ingredients together in a small bowl. Stir until crumbly and evenly blended. Set aside.
To make LOAVES: Preheat oven to 350 F (180 C). Grease and line three 5 x 2 x 2-in (13 x 5 x 5 cm) mini loaf pans.
In a large bowl, combine carrots, sugar, eggs, oil, vanilla and orange peel. Briskly stir to blend.
In a separate, medium-sized bowl, combine flour, baking powder and soda, salt and seasonings. Stir to blend. Gradually fold into carrot mixture. Stir in coconut and pecans. Mixture will be quite thick and lumpy.
Divide among loaf pans and gently tap each pan on the counter to remove any air bubbles. Smooth the tops with a spatula. Sprinkle with equal amounts of Topping. Bake for 35 to 40 minutes or until a cake tester comes out clean. Remove from oven and cool in tins on wire rack for 15 minutes before turning out and cooling completely. To store, wrap in parchment paper or place in cookie tins and refrigerate. Best served the next day for easy slicing.
Drink Pairings