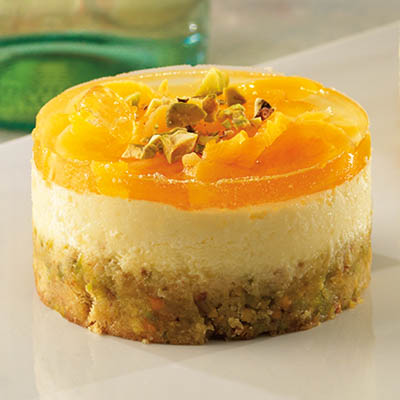 MINI GOAT'S CHEESE CHEESECAKES ON PISTACHIO CRUSTS WITH PROSECCO APRICOT GELÉE
Ingredients
Serves 6 cakes
3 oz (90 g) prepared shortbread cookies, crumbled, about 4 cookies
½ cup (125 ml) shelled pistachios, toasted
¼ cup (60 ml) granulated sugar
3 tbsp (45 ml) unsalted butter, melted
2 x 113 g logs plain goat's cheese, at room temperature
¼ cup (60 ml) granulated sugar
2 tbsp (30 ml) light-coloured liquid honey
¼ tsp (1 ml) pure almond extract
generous pinch kosher salt
2 large eggs, at room temperature
¼ cup (60 ml) finely slivered dried apricots
2 tbsp (30 ml) + ¼ cup (60 ml) granulated sugar, divided
½ tsp (2 ml) finely grated orange zest
1½ cups (375 ml) Prosecco
1 x 7 g package gelatin powder
Instructions
To make CRUST: In a food processor, pulse cookie crumbles, pistachios, sugar and salt until mixture resembles fine meal. Transfer to a bowl and stir in melted butter. Mixture should be moist enough to hold together. Place six 2½-in wide x 1-in high (7 cm x 2.5 cm) metal rings on a parchment-lined baking sheet and spray inside rings with cooking spray. Divide cookie mixture evenly among rings and press each into a firm base inside rings using the back of a spoon or your fingertips. Place in freezer while preheating oven to 400 F (200 C). (Alternatively you can use well-greased ramekins.)
To make FILLING: In a food processor, combine goat's cheese, sugar, honey, almond extract and salt. Pulse until blended and smooth. Add eggs, 1 at a time, and pulse until smooth. Transfer mixture to a large measuring cup or bowl with a pouring spout. Remove baking sheet from freezer and pour equal amounts of goat's cheese filling into each ring. Bake in centre of oven for 18 to 20 minutes or until minicheesecakes are just barely set. Remove from oven and place baking sheet on a rack to cool. Transfer baking sheet to refrigerator and chill mini-cheesecakes overnight.
The following day, prepare Prosecco Apricot Gelée. Place slivered apricots in a small bowl and cover with hot water to plump. Let stand for 30 minutes. Drain well and discard water. Press out as much liquid as possible and return apricots to bowl. Stir in 2 tbsp (30 ml) sugar and add orange zest. Toss together to evenly distribute and set aside for 30 minutes.
Place ½ cup (125 ml) Prosecco in a small bowl. Sprinkle with gelatin and stir in. Set aside to soften, about 5 minutes. Meanwhile, in a saucepan, bring remaining 1 cup (250 ml) Prosecco to a gentle boil. Stir in ¼ cup (60 ml) sugar until dissolved and remove from the heat. Stir in gelatin mixture until dissolved.
Using a slotted spoon, divide slivered apricots equally among chilled mini cheesecakes. Drizzle with equal amounts Prosecco mixture. Return cheesecakes to refrigerator and chill an additional 3 hours or until gelée topping is set.
To serve, run blade of a thin paring knife around inside of each metal ring and gently lift to remove. Using a thin metal spatula, transfer cheesecakes to a serving platter. Refrigerate until ready to serve.
Drink Pairings