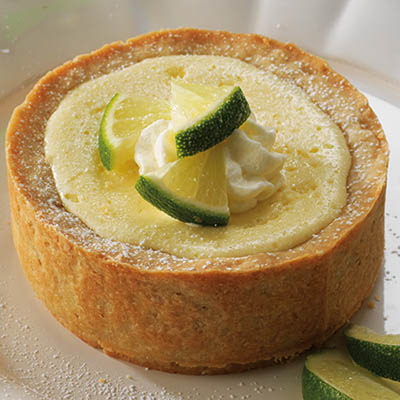 Ingredients
Serves 6
1 cup (250 ml) cold unsalted butter, cut into ½-in (1.25 cm) cubes
½ cup (125 ml) light brown sugar
¼ tsp (1 ml) almond extract
2¼ cups (560 ml) all-purpose flour
½ cup (125 ml) quick-cooking oatmeal
1 x 300 ml can sweetened evaporated milk
½ cup (125 ml) fresh key lime or regular lime juice
½ cup (125 ml) whipping cream
2 tbsp (30 ml) sifted icing sugar
1 lime, cut into thin wedges, for garnish
Instructions
To make CRUSTS: Using a stand mixer fitted with a paddle attachment (or a large bowl with an electric hand mixer), combine butter, sugar, almond extract and salt and beat at low speed until combined but not perfectly smooth, about 2 minutes. Add flour and oatmeal and continue to mix on low speed, scraping down sides of bowl with a spatula until dough begins to hold together, about 3 or 4 more minutes.
Preheat oven to 350 F (175 C). Place 6 mini-cheesecake pans about 4½-in wide x 1-in high (11 x 2.5 cm) on a baking sheet and spray the insides with cooking spray. (Alternatively, use tart pans.) Roll dough into 6 equal-sized balls, and press into the bottom and up the sides of each pan. Prick the bottom of each with a fork.
Bake in preheated oven for 10 to 12 minutes, or until crusts are golden brown and begin to puff. Remove from oven and gently press dough into each pan with the back of a spoon to form a firm shell. Cool in pans on baking sheet while preparing filling. Keep oven temperature at 350 F (180 C).
To make FILLING: Combine egg yolks in a bowl. Beat with an electric mixer at high speed until very creamy. Beat in condensed milk and continue to beat until thick, about 3 more minutes. Reduce mixing speed and gradually beat in lime juice and zest until blended.
Evenly pour mixture into cooled crusts. Return to oven and bake for 10 more minutes, or until filling is firm and doesn't jiggle when nudged. Remove from oven and cool on a rack. Refrigerate until chilled, about 3 hours, or preferably overnight.
To serve, run the thin blade of a knife around the inside of the minipans. Remove sides. Slip a pie server under crusts and gently remove minipies to serving plates or a platter.
To make TOPPING: Whip cream in a bowl with an electric mixer until soft peaks form. Sprinkle with icing sugar and continue to whip until firm peaks form. Transfer whipped cream to piping bag and top each mini-pie with a swirl of whipped cream. Top each with a thin wedge of fresh lime and serve.
Drink Pairings