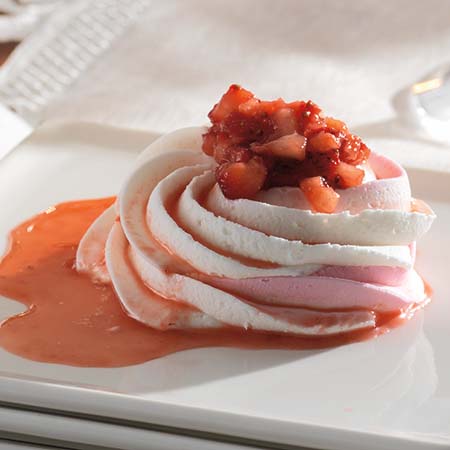 Ingredients
Serves 18
8 large egg whites, at room temperature
2 cups (500 ml) berry sugar
1 tsp (5 ml) vanilla extract
4 tsp (22 ml) tapioca starch or cornstarch
2 tsp (10 ml) white vinegar
orange, red and yellow soft gel paste food colouring
2 large oranges, zest and 2 tbsp (30 ml) juice only
pulp from 3 to 4 passion fruits
½ cup (125 ml) very finely diced strawberries
2 tbsp (30 ml) berry sugar
Instructions
Preheat oven to 350 F (180 C). Line 2 baking sheets with parchment paper. Draw 18 circles on paper measuring 2½-in (6 cm) in diameter.
Place egg whites and salt in an electric stand mixer fitted with a whisk attachment. Whisk at medium speed until they begin to hold firm but soft peaks. Gradually beat in sugar, 1 tbsp (15 ml) at a time, continuing to beat at medium speed until all the sugar is added and the mixture is thick and glossy, about 5 minutes. Beat in vanilla. Sprinkle tapioca starch over top along with vinegar and fold in to combine.
Fit a piping bag with a large star tip. Using a food-safe paint brush, paint 2 or 3 vertical lines of orange soft gel paste on the inside of the piping bag. Spoon 1/3 of the pavlova meringue into prepared piping bag. Pipe meringue inside 6 of the circles drawn on parchment paper. Make a slight indent in the centre of each using the back of a spoon.
Use clean piping bags each time, repeat procedure using red soft gel paste and then yellow soft gel paste.
Reduce oven temperature to 300F (150 C). Place meringues in oven for 30 minutes, rotating sheets halfway through baking. After 30 minutes, turn off oven and leave them in for another 30 minutes. Remove from oven and cool. Can be stored in a tightly covered container at room temperature overnight, if desired.
To serve, top orange-swirled meringues with equal amounts of orange zest and a tsp (5 ml) of orange juice. For yellow swirled meringues, ladle a generous spoonful of passion fruit pulp over centres. And for the strawberry swirled meringues, combine finely diced strawberries with sugar in a small bowl and muddle together to dissolve sugar. Ladle a generous spoonful into the centres.
Drink Pairings