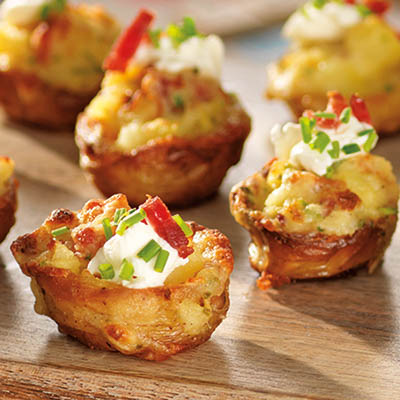 MINI TWICE-BAKED POTATOES
Ingredients
Serves about 12 mini potatoes
12 baby potatoes or new potatoes
2 bacon strips, finely diced
¼ cup (60 ml) sour cream, divided
¼ cup (60 ml) aged cheddar cheese, grated, divided
2 tbsp (30 ml) finely sliced chives, divided
1 tsp (5 ml) finely diced shallots
salt and freshly ground pepper, to taste
2 tbsp (30 ml) butter, melted
Instructions
In a large pot, cover potatoes in cold water. Add enough salt so it is as salty as sea water. Bring to a boil and simmer just until potatoes are tender, about 20 minutes. Drain and set aside until cool enough to handle.
Preheat oven to 375 F (190 C).
In a frying pan, cook bacon over medium heat until all fat is rendered. Drain bacon, reserving 1 tsp (5 ml) of fat, and lay bacon on a paper towel.
Make a small slice off two opposite sides of each potato (allows potatoes to sit flat), then cut potatoes in half. Using a melon baller, scoop out potato to create a little cup, leaving about ¼-in (0.5 cm) of flesh.
Transfer potato flesh to a mixing bowl and roughly mash. Add half the bacon, ¾ of the sour cream, ¾ of the cheese, half the chives, the reserved bacon fat and shallots. Mix until combined. Add salt and pepper to taste.
Lay potato skins on a baking sheet and brush with melted butter. Season to taste with salt and pepper. Bake in oven until golden brown and crisp, about 20 minutes.
Fill potato skins with mashed potato filling and top with remaining cheese. Bake again until filling is hot and cheese has melted, about 10 minutes. Let potato skins cool slightly (about 2 minutes), then garnish with remaining sour cream, bacon and chives.
Drink Pairings