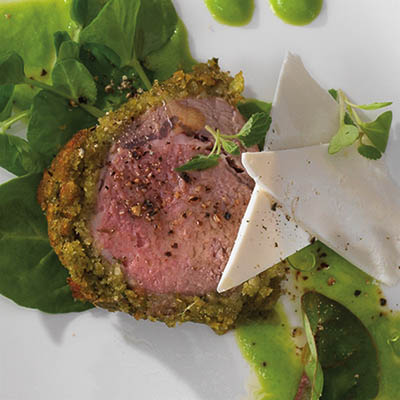 MINT AND GINGERCRUSTED LAMB
Ingredients
Serves 4
2 cups (500 ml) chopped day-old baguette
¼ cup (60 ml) fresh mint leaves
¼ cup (60 ml) fresh basil leaves
2 tbsp (30 ml) minced fresh ginger root
salt and freshly ground pepper, to taste
6 tbsp + 2 tbsp (120 ml) unsalted butter, at room temperature, divided
2 boneless single lamb loin roasts, about 12 oz (340 g) each, trimmed
10 oz (300 g) fresh or thawed frozen peas
pea shoots and micro greens, for garnish
ricotta salata cheese curls, for garnish
Instructions
Preheat oven to 450 F (230 C).
In a food processor, pulse together baguette, mint, basil, ginger and a good couple pinches of salt and pepper until mixture is finely chopped. Add 6 tbsp (90 ml) butter to processor and pulse until a paste forms. Season lamb loins with salt and pepper and place on a parchment-lined baking sheet. Pack crumb mixture onto surface of lamb so that it adheres. Roast lamb until an instantread thermometer registers 125 F (52 C), about 18 to 20 minutes. Transfer lamb to cutting board and let rest for 10 minutes.
While lamb is roasting, place peas in a saucepan with just enough water to cover. Boil for 2 minutes. Drain well, reserving 6 tbsp (90 ml) cooking water. In a blender, purée peas, remaining 2 tbsp (30 ml) butter and reserved cooking water until smooth and thick. Season to taste with salt and pepper.
When ready to serve, slice lamb across the grain and arrange on 4 plates. Spoon pea purée on and around lamb before garnishing with pea shoots and curls of ricotta salata (make with a vegetable peeler). Serve immediately.
Drink Pairings