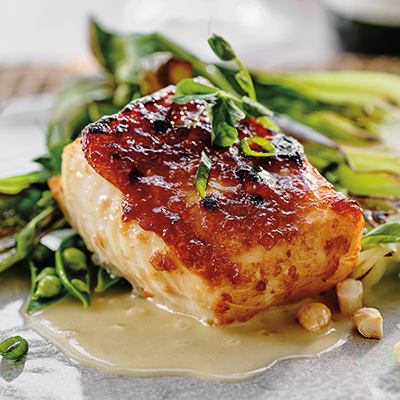 Miso Butter Halibut served with Bok Choy and Peas
Ingredients
Serves 4
3 tbsp (45 ml) shiro (white) miso
2 tbsp (30 ml) low sodium soy sauce
1 tbsp (15 ml) unseasoned rice vinegar
2 tbsp (30 ml) finely grated fresh ginger, divided
4 x 6 oz (170 g) halibut fillets, about 1-in (2.5 cm) thick, skin removed
1 tbsp (15 ml) + ½ cup (125 ml) chilled unsalted butter, divided
½ cup (125 ml) + 1 tbsp (15 ml) sake, divided
1 tbsp (15 ml) grapeseed oil
4 heads baby bok choy, halved (or quartered if large)
1 green onion, trimmed and thinly sliced, for garnish
½ cup (125 ml) pea shoots, for garnish
¼ cup (60 ml) roughly chopped blanched almonds, for garnish
Instructions
In a small saucepan, whisk together miso, mirin, soy sauce, sesame oil, rice vinegar and 1 tbsp (15 ml) ginger. Set saucepan over medium-low heat and bring just to a simmer, whisking constantly, about 4 minutes. Take care not to let mixture boil. Remove saucepan from heat, set aside and allow to cool to room temperature.
Arrange halibut fillets, skinned side down, on a plate in a single layer. Brush all over with miso mixture and allow to marinate in refrigerator for 30 minutes.
Meanwhile, make Sake Butter Sauce. Heat 1 tbsp (15 ml) butter in a small saucepan over medium heat. Add remaining 1 tbsp (15 ml) ginger and shallot and cook for 2 to 3 minutes, stirring frequently. Add ½ cup (125 ml) sake, bring to a boil, and allow to reduce by half, about 3 minutes. Whisking constantly, begin to add in remaining ½ cup (125 ml) butter, about 1 tbsp (15 ml) at a time, allowing butter to melt before adding more. Once thickened and creamy, remove from heat. Whisk in remaining 1 tbsp (15 ml) sake, lime juice and a pinch of salt. Taste and season with more salt as desired. Set saucepan aside at room temperature until ready to use.
Preheat broiler with an oven rack positioned about 4- to 6-in (10 to 15 cm) away from heat source.
Line a baking sheet with foil and place halibut, skinned side down, on sheet. Broil until exterior is caramelized and centre is slightly opaque, about 7 to 10 minutes.
Meanwhile, in a large frying pan, heat grapeseed oil over medium-high heat. Add garlic and sauté for 30 seconds. Add bok choy and cook, turning once, until lightly browned and warm, about 30 seconds to 1 minute per side. Set bok choy on a plate, return frying pan to heat and add snap peas. Season with a pinch of salt and sauté until warmed through but maintain some crunch, about 2 minutes. Transfer peas to plate with bok choy.
To serve, warm sake butter over medium heat, whisking constantly, until fluid. Ladle sake butter onto warm plates. Add bok choy, peas and halibut and top with green onion, pea shoots and almonds. Serve immediately.
Drink Pairings