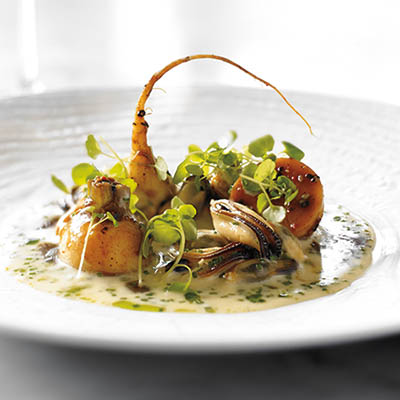 MISO MUSSELS WITH TOGARASHI-DASHI MARINATED TURNIPS
Ingredients
Serves 2
TOGARASHI-DASHI MARINATED TURNIPS:
½ tbsp (7 ml) dried Bonito flakes
½ tbsp (7 ml) Kombu, dried seaweed
4 fresh lemons, zest and juice
⅔ cup + 2 tsp (160 ml) tamari sauce
¼ cup (60 ml) each mirin ( Japanese rice wine) and liquid honey
2 cups (500 ml) baby turnips, halved
6 tbsp (90 ml) sesame oil
2 tbsp (30 ml) togarashi spice, to taste
¼ cup (60 ml) cilantro leaves
¼ cup (60 ml) sesame seeds
1 lb (500 g) mussels, scrubbed and de-bearded discarding any that remain open when tapped
1¼ cups (310 ml) white wine
¾ cup + 2 tbsp (200 ml) whipping cream
¾ cup + 2 tbsp (200 ml) unsalted butter, at room temperature
¼ cup (60 ml) blonde miso paste
2 tbsp (30 ml) lemon juice
Instructions
To make TOGARASHI-DASHI MARINATED TURNIPS: To make dashi, place water in a medium-sized saucepan with Bonito flakes and Kombu. Bring to boil, then remove from the heat and set aside to cool and for flavours to marinate.
Strain dashi and return to saucepan. Whisk in lemon zest and juice, tamari, mirin and honey. Bring to a gentle boil. Add turnips and cook over medium-high heat, with lid ajar, for 20 minutes or until tender when pierced and flavour is absorbed from dashi. Cooking time will vary depending on size of turnips.
Remove turnips from liquid and place in a large bowl. Drizzle with sesame oil and toss to coat. Season with togarishi spice according to taste. Cover and set aside.
To make MISO MUSSELS: Preheat a large, heavy saucepan over medium-high heat. When very hot, add mussels to the dry pan. Immediately pour wine over the mussels. It will boil rapidly. Cover and cook for 1 minute.
As soon as mussels open, remove from the heat. Using tongs, remove mussels from hot liquid to a separate bowl. Save liquid. Discard any mussels that remain closed. You can leave mussels in their open shells or remove the shells and discard.
Place saved liquid in a smaller saucepan. Cook over medium-high heat until reduced to about ¼ cup (60 ml). Whisk in cream. Return to a boil and continue cooking until reduced by half. Whisk in butter and miso paste. Add lemon juice and adjust to taste.
To serve, plate Miso Mussels with turnips, and garnish with cilantro and sesame seeds.
Drink Pairings