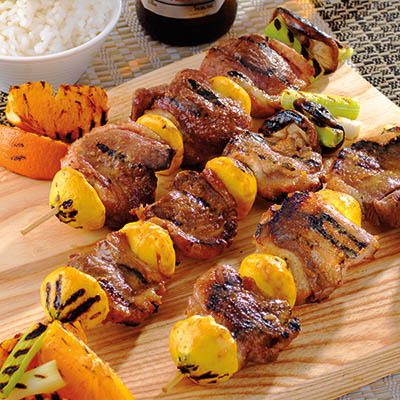 MISO, ORANGE AND SAKE-MARINATED DUCK SKEWERS
Ingredients
Serves 4 to 5
¼ cup (60 ml) Saikyo (white) mild miso
1 tbsp (15 ml) light soy sauce
1 tbsp (15 ml) orange zest
1 tbsp (15 ml) grated ginger
1 tbsp (15 ml) sesame oil
juice of 1 orange, about 4 tbsp (60 ml)
4 duck breasts, about 2 lbs (1 kg), excess fat trimmed
8 medium shiitake mushrooms, cleaned and halved
8 green onions, thick white parts, 3-in (7.5 cm) lengths
8 baby pattypan summer squash trimmed
12 x 8-in (20 cm) skewers, if using wooden, soak overnight in water
Instructions
In a mixing bowl, whisk together miso, sake, mirin, soy sauce, sugar, orange zest, ginger, garlic, sesame oil and orange juice until well blended. Set aside.
Score skin of duck breast lightly, then cut into 3 x ½-in (7.5 x 1.25 cm) chunks. Place into marinade and mix well. Transfer the whole mixture to a resealable plastic bag, seal and place into a shallow baking dish. Marinate at room temperature for at least 1 hour, turning bag occasionally, or refrigerate up to 1 day. This marinade can also be used with fish such as cod, salmon or sablefish, but fish would need to be baked not skewered.
Drain duck pieces, discard excess marinade. On skewers, alternately thread duck pieces with a shiitake mushroom half, summer squash and the white parts of the green onions. Place on a preheated charcoal or gas grill over medium-high heat. Grill for 10 to 15 minutes or until cooked until desired doneness, turning once. Serve with white rice.
Drink Pairings