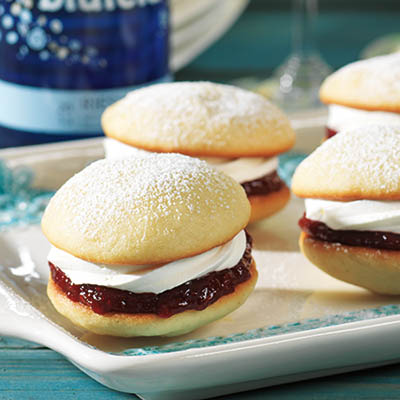 MIXED BERRY AND ELDERFLOWER CREAM SANDWICH CAKES
Ingredients
Serves about 19 cakes
1 heaping cup (250 ml) fresh strawberries
1 heaping cup (250 ml) fresh raspberries
½ heaping cup (125 ml) fresh blueberries
1 cup (250 ml) granulated sugar
2 tbsp (30 ml) fresh lemon juice
3 tbsp (45 ml) cornstarch
2½ cups (725 ml) all-purpose flour
¾ cup (175 ml) pastry flour
1¼ cups (300 ml) granulated sugar
⅓ cup (75 ml) vegetable oil
1½ cups (375 ml) buttermilk
½ vanilla bean, split and seeds scraped out
1¼ cups (300 ml) whipping cream
1½ tsp (7 ml) elderflower cordial concentrate
1 tbsp (15 ml) skim milk powder
1 tbsp (15 ml) icing sugar, plus extra for garnish
Instructions
To make BERRY FILLING: In a heavybottomed saucepan combine berries and water over medium-high heat. Bring to a boil, reduce heat to medium and cook, stirring often, for 30 minutes. Stir in sugar and continue to cook, stirring often, for 10 minutes. Whisk together lemon juice and cornstarch before stirring into berry mixture. Stir constantly until thickened, about 2 minutes. Transfer mixture to an airtight container and refrigerate until chilled, about 6 hours.
Place racks in upper and lower third of oven before preheating oven to 375 F (190 C). Line 2 baking sheets with parchment paper and set aside.
To make CAKE BATTER: In a medium-sized bowl, sift together flours, sugar and baking soda.
In a large bowl, whisk together egg and vegetable oil. Add buttermilk and vanilla seeds, whisking until well combined.
Slowly stir flour mixture into buttermilk mixture just until combined. Drop a level 1½ tbsp (22 ml) of batter into 12 mounds at least 2-in (5 cm) apart on 1 prepared baking sheet. Repeat with remaining batter on second baking sheet. Bake for 10 minutes, switching pans on racks halfway, or until puffed and tops spring back when touched. Let cool on pans for 2 minutes. Transfer cakes to wire racks to cool completely. Repeat with any remaining batter.
Just before ready to serve, prepare ELDERFLOWER CREAM: In a chilled bowl, whip cream, elderflower cordial, skim milk powder and icing sugar until stiff peaks form. Whipped cream can be prepared and refrigerated for up to 2 hours before using.
To assemble, spread about 1½ tbsp (22 ml) berry filling onto flat side of half the cakes. Pipe or spread about 2 to 3 tbsp (30 to 45 ml) elderflower cream over berry filling and sandwich with remaining cakes. Dust with additional icing sugar, if desired before serving immediately.
Drink Pairings