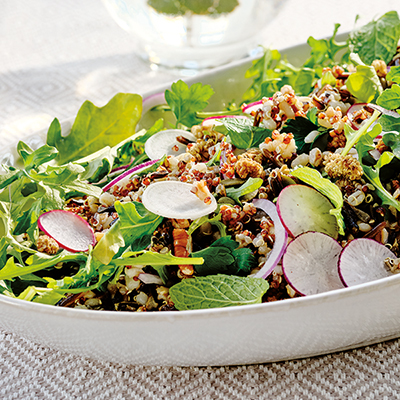 Mixed Grain, Radish & Pecan Salad
Ingredients
Serves 6
½ cup (125 ml) red quinoa
½ cup (125 ml) pearl barley
1 cup (250 ml) thinly sliced radishes
¼ small red onion, thinly sliced
¼ cup (60 ml) extra-virgin olive oil
¼ cup (60 ml) sherry vinegar
1 tbsp (15 ml) Dijon mustard
1½ cups (375 ml) baby arugula leaves
1 cup (250 ml) flat leaf parsley leaves
½ cup (125 ml) fresh mint leaves
½ cup (125 ml) toasted pecans
½ cup (125 ml) raw or toasted pumpkin seeds
½ cup (125 ml) dried mulberries or yellow raisins
Instructions
Cook grains individually according to package directions. Drain and set aside, allowing grains to cool to room temperature.
Meanwhile, place radish and red onion in separate bowls of ice water and set aside. Allow both sit for at least 10 minutes.
In a medium bowl, whisk together olive oil, vinegar and mustard. Set dressing aside.
Drain radish and red onion and place in a large bowl. Add cooked grains, arugula, parsley, mint and pecans. Toss to combine, then drizzle with dressing. Toss well and season to taste with salt. Add pumpkin seeds and mulberries. Toss well and serve.
Drink Pairings