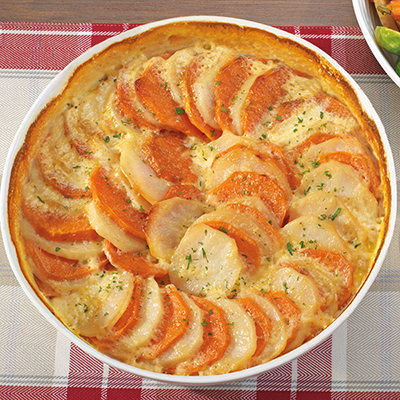 Ingredients
Serves 6 to 8
1 pinch freshly grated nutmeg
2 cups (500 ml) whipping cream
3 large russet potatoes, peeled, cut into 1-in (2.5 cm) slices
3 large sweet potatoes, peeled, cut into 1-in (2.5 cm) slices
1 cup (250 ml) grated Gruyère cheese
Instructions
Preheat oven to 325 F (162 C).
In a medium pot over medium heat, bring salt, pepper, garlic, thyme, sage, nutmeg and cream to a boil. Reduce heat to low and let sit.
Grease a 10-in (25 cm) round or 9 x 11-in (23 x 28 cm) rectangle baking dish with butter. Lay potatoes in dish, alternating potato and sweet potato.
Remove thyme sprigs and sage from cream and pour over potatoes, then sprinkle cheese all over. Cover with foil and bake for 1 to 1½ hours, until potatoes are tender. Remove foil and bake another 15 to 20 minutes, until cheese is golden brown. Serve warm.
Drink Pairings