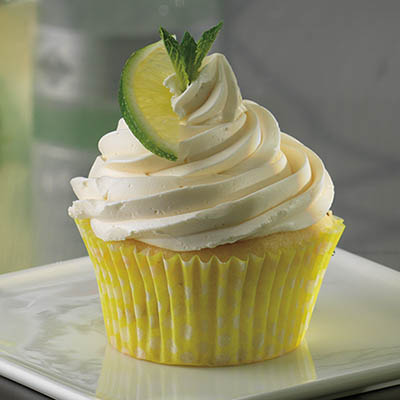 Ingredients
Serves 2
½ cup (125 ml) whole milk
½ cup + 2 tbsp (125 ml + 30 ml) packed
fresh mint leaves, divided, plus extra for garnish
1½ cups (375 ml) all-purpose flour
1½ tsp (7 ml) baking powder
½ cup (125 ml) unsalted butter, at room temperature
1 cup + 1 tbsp (265 ml) granulated sugar, divided
2 limes, zested and juiced, plus extra lime slices for garnish
4 oz (125 ml) white rum, divided
½ tsp (2 ml) vanilla extract
thin lime wedges and fresh mint, for garnish
1¼ cups (310 ml) granulated sugar
¼ cup (60 ml) lightly packed brown sugar
2 cups (500 ml) unsalted butter, diced and softened
Instructions
In a small saucepan, stir together milk and ½ cup (125 ml) mint leaves over medium heat. Warm until steaming, remove from heat, cover and let steep for 30 minutes. Strain through a fine- meshed sieve into a small bowl, pressing on mint leaves to extract flavoured milk. Discard mint and set milk aside to cool.
Preheat oven to 325 F (170 C). Line 2 standard-sized muffin tins with paper liners and set aside.
In a medium-sized bowl, whisk together flour, baking powder and salt.
In bowl of a stand mixer fitted with paddle attachment, beat together butter and 1 cup (250 ml) sugar on medium-high speed until smooth, about 4 minutes. Add eggs, one at a time, mixing to combine after each.
Beat in lime zest and juice, rum and vanilla extract until thoroughly incorporated. Add flour mixture in three batches, alternating with flavoured milk in two batches. Mix just until incorporated. Using a rubber spatula, give batter one last stir. Divide batter evenly among prepared muffin cups. Bake, rotating pans after 12 minutes, until cakes spring back when touched and a wooden skewer inserted only has a few moist crumbs attached, about 25 minutes total.
While cupcakes bake, combine remaining 2 oz (60 ml) rum, 2 tbsp (30 ml) mint and 1 tbsp (15 ml) sugar in a small saucepan and warm over medium heat until sugar has melted and mixture is just warm, about 8 minutes. Remove pan from heat, cover and let steep.
Carefully remove cooked cupcakes from muffin tins and allow to cool on a wire rack for 8 minutes. Brush tops of cupcakes with infused rum syrup and allow to cool completely.
While cupcakes cool, make Rum Buttercream. In a medium-sized saucepan, bring about 1-in (2.5 cm) of water to a simmer over medium heat. Whisk together egg whites and sugars in large bowl and place over simmering water, making sure bowl does not touch surface of simmering water. Bring mixture to 160 F (71 C) while whisking constantly. Transfer mixture to bowl of a stand mixer fitted with whisk attachment and beat on medium-high speed until mixture has cooled, doubled in volume and forms stiff peaks, about 10 to 12 minutes. Add butter, about 1 tbsp (15 ml) at a time, mixing to incorporate after each addition until smooth. Stir in salt and rum until well combined. Transfer buttercream to a piping bag fitted with a large star tip.
Frost cupcakes and garnish with a lime wedge and few fresh mint leaves, if desired.
Drink Pairings