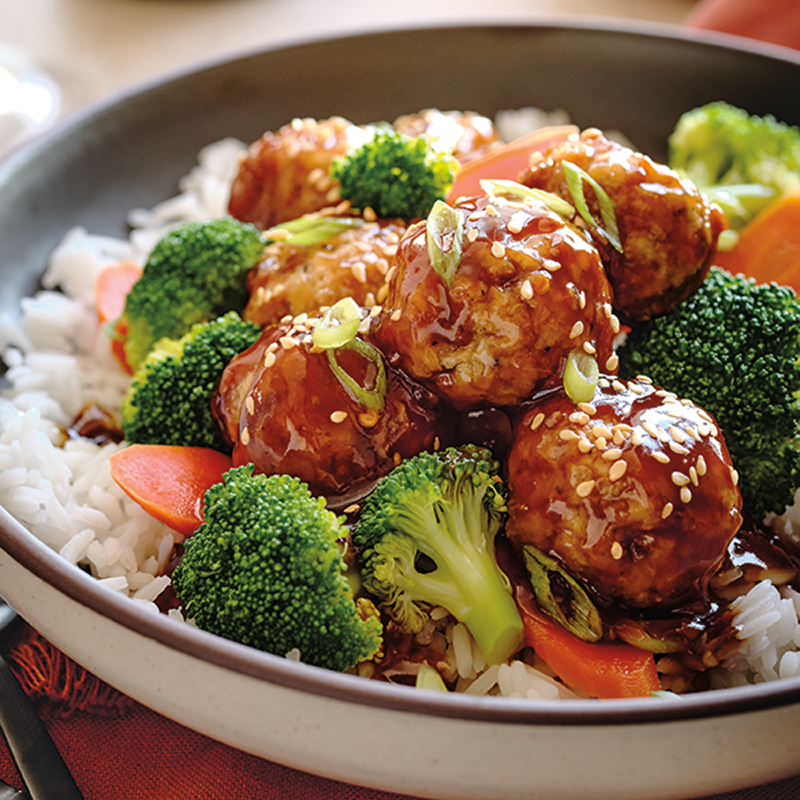 Mongolian Cauliflower "Meatballs"
With colder weather rolling in, autumn meals should be both warm and filling, a requirement met by meatballs.
Ingredients
Serves 4
1 tbsp (15 ml) grapeseed oil, plus extra for greasing baking tray
4 cups (1 L) cauliflower florets, about 1-in (2.5 cm) in size
1 cup (250 ml) cooked and cooled quinoa
1 cup (250 ml) panko bread crumbs
1 tsp (5 ml) garlic powder
1 tsp (5 ml) onion powder
1 tsp (5 ml) kosher salt, plus extra
¾ tsp (4 ml) freshly ground black pepper
1 cup (250 ml) low sodium soy sauce
1 cup (250 ml) light brown sugar
2 tbsp (30 ml) minced ginger
⅔ cup (150 ml) white wine
1 tbsp (15 ml) unseasoned rice vinegar
½ tsp (2.5 ml) red pepper flakes
2 tbsp (30 ml) cornstarch
3 green onions, thinly sliced
1 tbsp (15 ml) toasted sesame seeds
rice and steamed or roasted vegetables, to serve (optional)
Instructions
Preheat oven to 400 F (200 C). Grease a rimmed baking tray with grapeseed oil and set aside.
To prepare cauliflower "meatballs," set a steamer basket over a large saucepan filled with just enough water to touch bottom of basket. Add cauliflower, cover and bring to a hard simmer over medium-high heat. Cook until cauliflower is tender when pierced with a fork, about 12 to 15 minutes. Transfer cauliflower in a single layer to a baking tray and let cool for at least 5 minutes.
Finely chop cauliflower by hand with a sharp knife or in a food processor. Place finely chopped cauliflower in a large bowl along with cooked quinoa, panko, eggs, garlic powder, onion powder, salt and pepper. Stir with a fork until well combined. Using lightly water-moistened hands, gently roll about 1½ tbsp (22 ml) cauliflower mixture into a ball and place on prepared baking tray. Bake, turning halfway through cooking time, until golden brown, about 15 to 17 minutes.
While cauliflower "meatballs" bake, prepare Mongolian sauce. In a large frying pan, whisk together grapeseed oil, soy sauce, brown sugar, minced garlic, ginger, wine, rice vinegar and red pepper flakes. Place over medium-high heat and bring to a hard simmer, stirring constantly. Cook, whisking often, for 8 minutes.
In a small bowl, whisk together cornstarch and water until well combined. Add this slurry to sauce and continue to cook, whisking constantly, until sauce thickens, about 1 minute. Remove frying pan from heat. Add cooked cauliflower "meatballs" to hot Mongolian sauce and gently toss to coat.
Transfer "meatballs" to a serving bowl and garnish with green onions and sesame seeds. Serve while warm over rice with steamed or roasted vegetables, if desired.
Drink Pairings