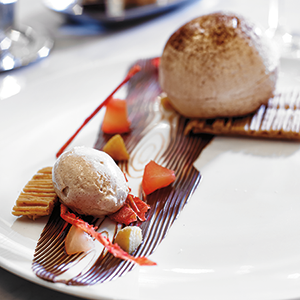 Ingredients
Serves 10
Poached Apples (recipe follows)
Meringue (recipe follows)
Candied Chestnut (recipe follows)
Chestnut Cream (recipe follows)
Ice cream (vanilla or caramel)
3 cups (750 ml) apple juice
1½ cups (350 ml) granulated sugar
½ cup (125 ml) granulated sugar, divided into 3 portions
1 lb (500 g) chestnuts, shelled (roughly 1.25 lb or 575 g with shell)
⅓ cup (750 ml) granulated sugar
Chestnut Paste (recipe follows)
1 lb (500 g) chestnut paste (recipe follows)
½ cup (125 ml) unsalted butter, at room temperature
2 tbsp (30 ml) whipping cream
CHESTNUT PASTE (Makes 1 lb (500 g) of chestnut paste):
⅓ lb (175 g) chestnuts, shelled
⅓ cup (75 ml) granulated sugar
2 tsp (10 ml) maple syrup
Instructions
To make MONT BLANC: Cut poached apples into approximately ½-in (1.25 cm) slices.
Using a piping bag, pipe the Chestnut Cream in even rows on one side of your desired serving plate to form an approximately 3-in (8 cm) solid square. Pipe a second layer of Chestnut Cream on top of the original layer (refer to picture).
Fill a meringue half-sphere about 1/4 full with whipping cream. Place a few slices of poached apple on top of the whipping cream.
Place a scoop of ice cream (vanilla or caramel) inside the meringue, and cover with a final layer of whipping cream.
Close the meringue "ball" with a second meringue half-sphere. Take the entire meringue ball and place on top of Chestnut Cream square.
Place a scoop of ice cream on the opposite side of the plate (refer to picture), and arrange Candied Chestnuts and remaining poached apples attractively on the plate.
To make POACHED APPELE: Peel and core apples. Set aside.
In a large saucepan over medium-high heat, combine apple juice, sugar and cinnamon stick and bring to a boil. Turn heat down to low and carefully place apples into poaching liquid. Poach apples for 30 minutes, then add lemon juice.
Refrigerate apples along with poaching liquid overnight.
To make MERINGUE: Preheat oven to 200 F (94 C).
In a large bowl, whisk one third of the sugar into egg whites until soft peaks form. Add another third of the sugar to mixture and continue whisking. Add remainder of sugar and whisk until stiff peaks form and mixture is shiny.
Transfer meringue mixture into a pastry bag with a rounded tip (alternatively, transfer mixture to Ziploc bag with a corner cut off for piping). Pipe meringue into a half-sphere silicone mold. Bake meringue for 45 minutes.
To make CANDIED CHESTNUTS: In a large pot, bring water and sugar and to a boil. Add chestnuts and boil on low heat for 30 minutes. Refrigerate chestnuts with cooking liquid overnight.
To make CHESTNUT CREAM: With a spatula, mix together chestnut paste and butter. Add honey, cream, cognac and cinnamon. Mix well to combine.
To make CHESTNUT PASTE: In a saucepan, bring water to a boil. Add chestnuts and cook for 30 minutes, until they become soft. Add sugar and maple syrup and continue to boil for one more minute. Strain chestnuts and blend in food processor or blender until smooth.
Drink Pairings