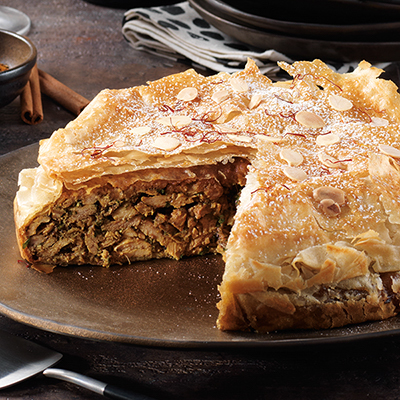 MOROCCAN CHICKEN AND ALMOND PIE
Ingredients
Serves 8 to 10
3 medium onions, finely chopped
1 tbsp (15 ml) ginger, finely chopped
2 tbsp (30 ml) Ras el Hanout spice (Available at specialty grocery stores.)
½ tsp (2.5 ml) saffron threads soaked in 1 tbsp (15 ml) warm water
4 lbs (2 kg) chicken legs and thighs, bone-in, skinless
1 cup (250 ml) ground almonds
½ tsp (2.5 ml) ground cinnamon, plus extra for garnish
2 cups (500 ml) chopped flat leaf parsley
1 cup (250 ml) chopped cilantro
1 package brik1 pastry or phyllo pastry, defrosted (Available at specialty grocery stores.)
½ cup (125 ml) melted butter
powdered sugar, for garnish
sliced almonds, for garnish
saffron threads, for garnish (optional)
Instructions
To make filling, in a large saucepan over medium heat, heat olive oil. Add onions and salt and cook for about 15 minutes until onions are golden brown. Stir occasionally so as not to burn. Add garlic, ginger, Ras el Hanout, cinnamon stick, saffron and its liquid and chicken. Add enough water to just cover chicken. Cover with a lid and simmer over medium-low heat for about 45 minutes, or until chicken is tender and can shred easily when pierced with a fork.
While chicken is cooking, in a frying pan over medium heat, toast ground almonds, stirring occasionally, until golden brown. In a small bowl, mix toasted almonds with sugar and ground cinnamon and set aside.
Remove chicken from braising liquid and set aside to cool slightly. Remove cinnamon stick from braising liquid and continue cooking without lid. Reduce liquid to a sauce consistency. Remove from heat, add chopped herbs and stir. Let filling mixture cool.
Shred chicken, discard bones, then add meat to filling mixture along with eggs. Stir to combine.
Preheat oven to 350 F (180 C).
In a 9-in (2.5 L) round springform pan, layer 6 pieces of brik or phyllo pastry, brush with melted butter between each layer. Layer pastry so that it goes up and over sides of pan. Pour in filling and top with ground almond mixture. Put 6 layers of pastry on top of filling, brushing with butter between each layer. Roll edges of bottom and top pastry together to form a crust. Brush top with butter.
Bake for 45 to 55 minutes, or until pastry is golden brown. Let cool for 30 minutes, then remove outer ring of pan and continue to cool. Can be served at room temperature or warm. Garnish before serving.
Drink Pairings