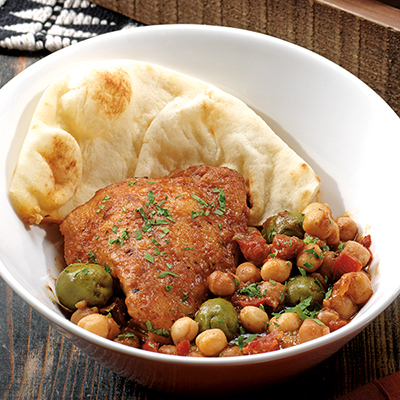 MOROCCAN CHICKEN AND CHICKPEA STEW
Ingredients
Serves 4 to 6
6 bone-in, skin-on chicken thighs
2 tsp (10 ml) harissa spice
1 x 28 oz (800 g) can chickpeas
1 lemon, peel only (use potato peeler to make strips)
2 cups (500 ml) chicken stock
grilled flatbread or couscous, to serve
Instructions
In a heavy-bottomed pot or Dutch oven over medium-high heat, warm oil.
Season chicken with salt and pepper. Sear chicken, skin side down, until skin is golden brown, about 5 minutes. Turn chicken over and sear for another 5 minutes, or until golden brown. Remove chicken from pot and set aside.
Reduce heat to medium-low, add onion and garlic, and sweat until soft and translucent. Reduce heat to low, add remaining ingredients and stir. Add chicken and cover. Simmer for 20 to 30 minutes, or until chicken is cooked through and juices run clear. Adjust seasoning as desired. Remove lemon peel, bay leaf and cinnamon stick before serving. Serve with grilled flatbread or couscous, if desired.
Drink Pairings