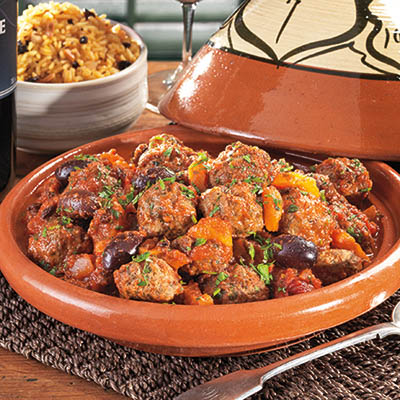 Ingredients
Serves 6
1 medium yellow onion, finely chopped
3 garlic cloves, finely minced
1 tbsp (15 ml) each ground coriander, ground cumin, garlic powder
1 tsp (5 ml) each curry powder, dried oregano and dried thyme
½ tsp (2 ml) each ground cinnamon and chili powder
2½ lbs (1¼ kg) ground lamb
½ cup (125 ml) each chopped flat-leaf parsley and fresh mint
salt and freshly ground black pepper
1 small yellow onion, finely chopped
2 garlic cloves, finely minced
1 tbsp (15 ml) each ground cumin and ground coriander
4 cups (1 L) puréed tomatoes
1 cup (250 ml) chicken stock
½ cup (125 ml) dried apricots, coarsely chopped
½ cup (125 ml) kalamata or Niçoise olives
¼ cup (60 ml) dried currants
2 tbsp (30 ml) thinly sliced fresh mint
2 tbsp (30 ml) chopped flat-leaf parsley
toasted slivered almonds and chopped mint, for garnish
Instructions
Preheat oven to 350 F (180 C). To make Meatballs, heat oil in frying pan over medium-high. Add onion and garlic and sauté until onions are soft and translucent, about 5 minutes. Remove and set aside to cool.
Add ground cumin and coriander to a small dry frying pan and warm over medium heat until fragrant, about 1 minute. Remove to slightly cool, then place in a small bowl along with remaining spices. Mix well. Place lamb in a large mixing bowl along with spice mixture, egg, parsley and mint. Season with salt and pepper. Mix well and shape into Ping-Pong-sized meatballs. Place on a parchment or foil-lined baking sheet and bake for 20 minutes.
To make SAUCE: Heat oil in a large saucepan over medium heat. Add onions sauté until soft. Add garlic, cinnamon sticks, cumin and coriander. Sauté for 3 to 4 minutes or until fragrant. Add tomato purée, broth and apricots. Bring to a boil, season and simmer for 10 minutes.
Remove cinnamon sticks. Mix in meatballs, olives, currants, mint and parsley and heat until warmed through. Garnish with toasted slivered almonds and mint. Serve with Mint Yogurt Sauce, Moroccan Rice and warm pita bread, if desired.
Drink Pairings