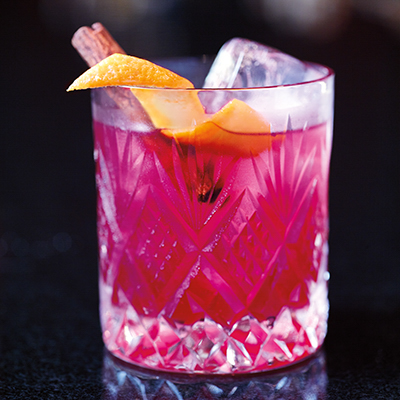 Ingredients
Serves 1
2 oz (60 ml) Espolón Reposado Tequila
1 oz (30 ml) Spiced Syrup *
¾ oz (22 ml) Inniskillin Merlot
4 dashes Dillon's Cranberry Bitters **
orange twist, for garnish
grated cinnamon, for garnish
Instructions
In a cocktail shaker with ice, add all ingredients except for garnishes, shake to combine. Double strain into a rocks glass filled with ice and garnish with orange twist and grated cinnamon.
* For Spiced Syrup: In a saucepan, combine 1 cup (250 ml) each white sugar and water, with 4 star anise, 3 tsp (15 ml) cloves and 4 tsp (20 ml) cinnamon and bring to a boil. Turn down heat and allow to reduce by a quarter. Allow to cool to room temperature before using.
** Available at specialty stores.
Featuring