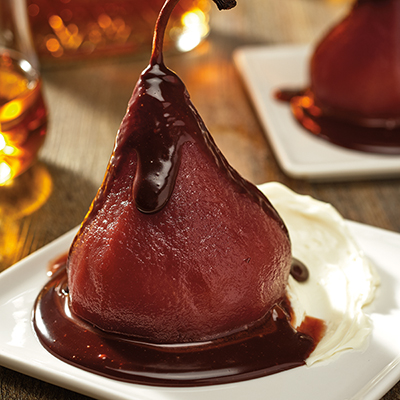 Mulled Wine Poached Pears
Ingredients
Serves 4
2 cups (500 ml) dry red wine
½ cup (125 ml) granulated sugar
5 oz (140 g) dark chocolate, chopped
¾ cup (175 ml) mascarpone cheese
1 tbsp (15 ml) whipping cream
½ tsp (2.5 ml) vanilla extract
Instructions
In a small or medium saucepan, stir together water, wine, sugar, star anise, cinnamon stick, cloves and orange peel. Warm mixture over medium heat, stirring constantly, until sugar dissolves, about 2 minutes. Bring mixture to a light simmer.
Peel pears and, with a melon baller, remove core, working from bottom and carving into centre of pear.
Place pears in simmering wine mixture. To keep pears submerged, place a piece of parchment paper over them, so that it touches poaching liquid. Poaching time will depend on their ripeness. To check pears for doneness, after 8 to 10 minutes, lift them gently from syrup with a slotted spoon and, using a small knife, poke flesh. Pear is done when knife meets little resistance. If not yet done, return pears to sugar syrup and check every 3 to 5 minutes. Remove saucepan from heat, uncover and allow pears to cool to room temperature in poaching liquid. At this point, pears may be refrigerated in poaching liquid for up to 24 hours.
Remove pears from poaching liquid and set aside. In a saucepan over medium-high heat, reduce poaching liquid until only 1 cup (250 ml) remains. Discard solids and whisk in chopped chocolate until melted and fully incorporated. Whisk in a splash of whipping cream if too thick to pour.
In a medium bowl, whisk together mascarpone cheese, cream and vanilla extract until smooth and creamy.
To serve, divide pears among serving plates. Drizzle with chocolate sauce and serve with a dollop of mascarpone cream.
Drink Pairings