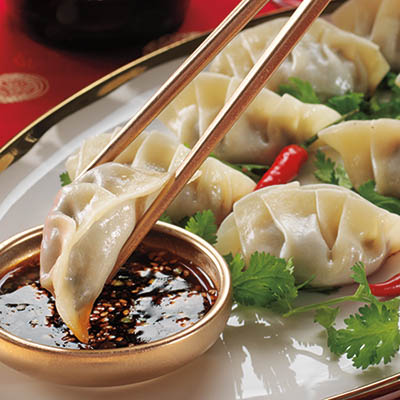 MUSHROOM AND CABBAGE DUMPLINGS
Ingredients
Serves 16 Dumplings
2 tbsp (30 ml) rice wine vinegar
½ tsp (2 ml) fresh ginger root, peeled and minced
½ tsp (2 ml) minced green onion
½ tsp (2 ml) toasted sesame seeds, crushed
3 tbsp (45 ml) vegetable oil, divided
¼ small cooking onion, minced
2 tsp (10 ml) peeled and minced fresh ginger root
2 cups (500 ml) shiitake mushrooms, chopped
½ head small Napa cabbage, shredded
2 tbsp (30 ml) granulated sugar
2 tbsp (30 ml) Chinese cooking wine
1 tsp (5 ml) freshly ground black pepper
1 tbsp (15 ml) sesame oil
16 x 3-in (8 cm) wonton wrappers
Instructions
In a small bowl, combine DIPPING SAUCE ingredients. Whisk together until blended and set aside.
To make DUMPLINGS: Heat a large, heavy-bottomed frying pan over medium heat. Add half the vegetable oil, minced onion, garlic and ginger and sauté until soft.
Add mushrooms, cabbage, salt and sugar and cook until mushrooms are fully cooked and liquid has evaporated. Transfer to a bowl and mix in Chinese cooking wine, soy sauce, pepper and sesame oil.
To assemble, place 1 tsp (5 ml) filling in middle of a wonton wrapper. Wet edge of wrapper with a little bit of water. Fold over and crimp edges together to form small pleats to seal. Repeat with remaining wrappers and filling.
Heat remaining vegetable oil in a large heavy-bottomed frying pan over medium heat. Place dumplings flat-side down in frying pan until golden brown. Add water and immediately cover with lid.
Cook dumplings for about 6 to 8 minutes over medium heat. Then remove lid and continue cooking until dumplings release from bottom of the pan and bottoms are crisp.
Serve hot, dipped in Dipping Sauce.
Drink Pairings