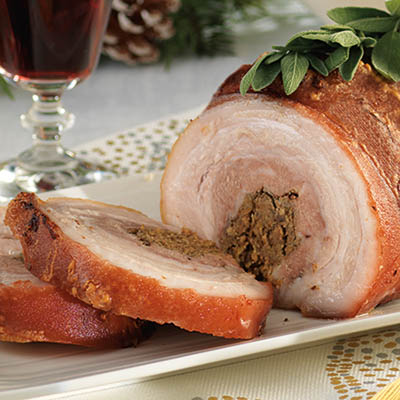 MUSHROOM AND LEEKS TUFFED PORK ROAST SERVED WITH PERFECT ROASTED POTATOES
Ingredients
Serves 8
1 small leek, washed and chopped
1 tbsp (15 ml) extra-virgin olive oil
5 cups (1.25 L) button mushrooms, roughly chopped
½ tsp (2 ml) freshly ground pepper
1 tsp (5 ml) chopped fresh thyme
½ tsp (2 ml) chopped fresh sage
½ cup (125 ml) bread crumbs
5¼ lb (2.5 kg) pork belly roast, skin on
2 tbsp (30 ml) kosher salt, divided
1 tbsp (15 ml) freshly ground pepper, divided
1 tbsp (15 ml) chopped fresh thyme
1 tsp (5 ml) chopped fresh rosemary
1 tbsp (15 ml) extra-virgin olive oil
1 cup (250 ml) white wine
2 cups (500 ml) chicken stock, divided
PERFECT ROASTED POTATOES:
4½ lbs (2 kg) Yukon Gold potatoes, peeled and halved
reserved fat from pork roast drippings, or ¼ cup (60 ml) extra-virgin olive oil
1 tsp (5 ml) freshly ground pepper
Instructions
To make STUFFING: In a medium pan, sweat the leek, garlic and onion in olive oil and butter over medium heat until onions are translucent, about 5 minutes. Turn up heat and add mushrooms, salt, pepper, thyme and sage. Continue to cook, stirring occasionally, until mushrooms are fully cooked, about 10 to 15 minutes.
Place mushroom mixture and bread crumbs in a food processor and blend until mushrooms are a rough purée. Remove from food processor and set aside to cool. Stuffing must cool completely before stuffing pork.
To make PORK ROAST: Preheat oven to 300 F (150 C). Lay pork belly on a cutting board, skin side up. Dry skin with a paper towel. Prick skin of pork belly all over with a knife. Flip pork belly over, skin side down. Sprinkle half the salt and pepper all over meat. Sprinkle evenly with thyme and rosemary. Lay belly so that long side is parallel to you.
Place stuffing down middle of pork belly, perpendicular to you. It should be in the shape of a log. Roll meat around stuffing and tie roast together with butcher's twine.
Coat skin of roast with olive oil and sprinkle with remaining salt and pepper. Place roast in a roasting pan, cover with foil and cook in oven for 4 hours (a knife will be able to easily pierce meat). Remove from oven and set aside while making sauce and Perfect Roasted Potatoes.
Pour out all drippings from roasting pan into a bowl and return roast to pan. Remove most of the fat from drippings and set fat aside for Perfect Roasted Potatoes (if making).
For sauce, add drippings into a saucepan with wine. Cook until wine has reduced by half. Pour half the stock into saucepan. In a small bowl, make a slurry with remaining half of stock and flour. Slowly add slurry to saucepan, stirring with a whisk. Simmer over low-medium heat until thickened. Set aside, to be served with roast.
Preheat oven to 500 F (260 C). Return roast to oven and cook for an additional 20 to 30 minutes, or until skin is crisp and crackly. Remove and rest for 10 minutes before slicing. Serve with Perfect Roasted Potatoes and Glazed Heirloom Carrots (optional).
To make PERFECT ROASTED POTATOES: In a large pot, place potatoes and cover with cold water. Add enough salt so water is as salty as sea water. Place over high heat and bring water to a boil. Reduce heat to low and simmer until potatoes are just tender all the way through. Drain potatoes and toss lightly. Edges of potatoes should break up slightly.
Preheat oven to 375 F (190 C).
Place a heavy bottomed roasting pan in oven to preheat. Once roasting pan is hot, remove from oven and add pork fat (or oil) and butter. Add potatoes and pepper to hot pan and toss until coated in fat.
Roast for 45 minutes to an hour, or until potatoes are golden brown and crisp. Turn them over after 30 minutes.
Drink Pairings