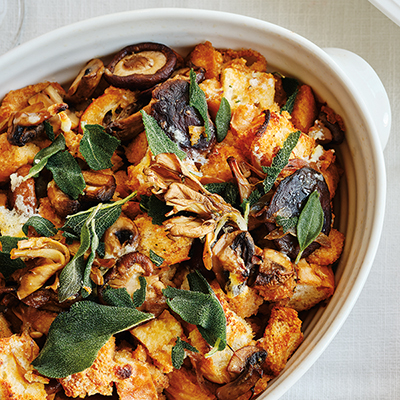 Ingredients
Serves 4 to 6
1 loaf French bread, cut into cubes
2 tbsp (30 ml) butter, plus extra for greasing
2 stalks celery, finely chopped
1 lb (500 g) mixed mushrooms, stems removed, sliced
2 tsp (10 ml) salt, divided
1 tsp (5 ml) black pepper
1 tsp (5 ml) chopped thyme leaves
2 cups (500 ml) stock (turkey, chicken, mushroom or vegetable)
Instructions
Preheat oven to 375 F (190 C). Bake bread cubes until light golden and dry, about 5 to 8 minutes. Set aside but leave oven on.
In a large saucepan, melt butter with oil. Add celery, onion, garlic and anchovies and cook over medium heat just until onions are soft, about 5 to 8 minutes. Add mushrooms, 1 tsp (5 ml) salt, pepper, thyme, sage and wine. Continue cooking over medium heat; mushrooms will release their juices, then continue cooking until the liquid has evaporated and mushrooms are lightly caramelized, about 15 minutes total.
Grease a casserole dish with butter. In a small bowl, combine remaining 1 tsp (5 ml) salt, eggs and stock. In a large bowl, combine bread, mushrooms and stock mixture. Transfer stuffing to greased casserole and bake at 375 F (190 C) for 30 to 40 minutes, or until stuffing is heated through and golden brown on top.
Drink Pairings