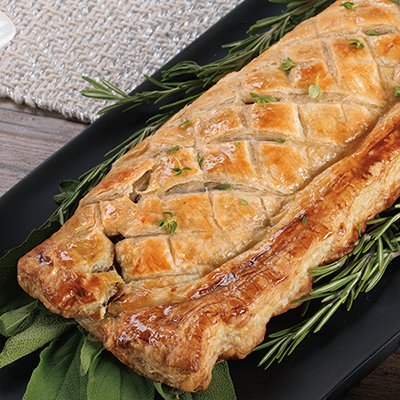 MUSHROOM WELLINGTON SERVED WITH PLANT-BASED GRAVY
Ingredients
Serves 10 to 12. Makes 2 Mushroom Wellingtons
4 tbsp (60 ml) sunflower oil, divided
1 small yellow onion, diced
2 cups (500 ml) mushrooms
2 cups (500 ml) cooked lentils
½ cup (125 ml) crushed tomatoes
1 tbsp (15 ml) tomato paste
2 tbsp (30 ml) balsamic vinegar
1 cup (250 ml) frozen peas
salt and pepper, to taste
2 sheets vegan puff pastry , thawed (Available at specialty grocery stores)
2 tbsp (30 ml) all-purpose flour
1 tsp (5 ml) liquid vegetable base (Available at specialty grocery stores)
1½ cups (375 ml) boiled water
2 tbsp (15 ml) vegan butter
1 tbsp (15 ml) all-purpose flour
Instructions
In a large skillet on medium heat, heat 2 tbsp (30 ml) oil. Sauté onion and garlic until soft. Remove from heat and set aside.
For filling, cut carrot into 4 pieces and using a food processor, pulse until rice-size. Remove and repeat for mushrooms and walnuts. Add all pulsed ingredients and lentils into skillet with onions and garlic. Cook for 10 minutes then add crushed tomatoes, tomato paste, balsamic vinegar and peas. Cook for another 10 minutes, or until everything has softened. Season to taste. Remove from heat and let cool completely.
Preheat oven to 350 F (175 C)
For crust, on a lightly floured working surface, unroll sheets of pastry. Place cooled mushroom mixture on 1 side of each sheet of pastry lengthwise. Fold remaining pastry over mushroom mixture. Press down to seal edges. Using a knife, gently score top of pastry with a design of choice. Brush tops of both pastries with remaining 2 tbsp (30 ml) oil. Repeat for second pastry. Bake for 20 minutes or until golden brown.
For PLANT-BASED GRAVY:
In a bowl, whisk together liquid vegetable base and water until dissolved.
In a medium saucepan on medium heat, heat vegan butter until melted. Add flour and stir until roux is golden brown. Add bouillon water mixture and stir. Once gravy has thickened remove and serve.
Drink Pairings