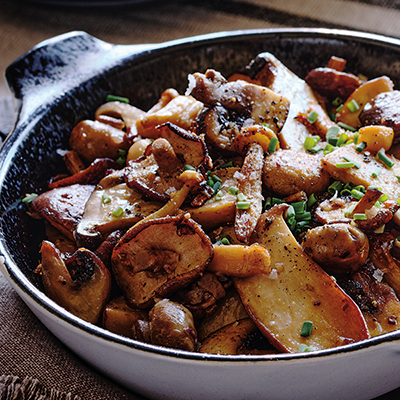 Mushrooms à la Bordelaise
Ingredients
Serves Serves 4
1 lb (454 g) mixed whole mushrooms
¼ cup (60 ml) unsalted butter
½ tsp (2.5 ml) finely grated lemon zest
2 tsp (10 ml) freshly squeezed lemon juice
3 tbsp (45 ml) extra-virgin olive oil
2 tbsp (30 ml) finely minced shallot
½ tsp (2.5 ml) minced garlic
½ tsp (2.5 ml) kosher salt
¼ tsp (1 ml) freshly ground black pepper
2 tbsp (30 ml) finely chopped fresh parsley leaves or chives
pan-fried or toasted sliced country bread, to serve
Instructions
To prepare mushrooms, trim or remove stems and wipe clean with a clean, damp tea towel. Cut mushrooms as needed so they are all roughly the same size. Set aside.
In a large cast iron skillet over medium heat, melt butter, lemon zest and juice. Stir in mushrooms, cover and cook, stirring occasionally, for 5 minutes.
Remove lid and stir in olive oil. Increase heat to medium-high and cook, stirring often, for 2 minutes. Reduce heat to medium-low and let mushrooms simmer gently, uncovered, stirring occasionally, until softened, about 15 minutes.
Stir in shallots, garlic, salt and pepper and cook, stirring often, until shallots and garlic have softened, about 5 minutes.
Remove skillet from heat and adjust seasoning to taste with additional salt and pepper. Sprinkle with parsley or chives and serve warm with bread.
Drink Pairings