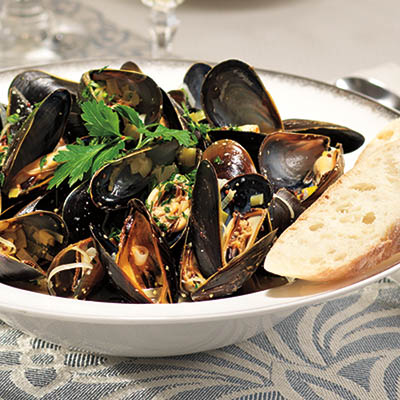 MUSSELS IN MUSTARD AND WINE
Ingredients
Serves 4 as an appetizer, 2 as a main
1 tbsp (15 ml) unsalted butter
1 leek, cleaned and minced
1 cup (250 ml) white wine
1 tbsp (15 ml) moutarde de Meaux (old-fashioned grainy mustard)
salt and freshly ground black pepper, to taste
2 tbsp (30 ml) chopped flat leaf parsley
slices of fresh, crusty bread, to serve
Instructions
Sort through mussels, lightly tapping any that are open to see if they close. Discard ones that remain open or damaged. Pull off beards and scrape off any barnacles using back of knife, then rinse several times. Set aside.
In a large saucepan or Dutch oven, heat butter and olive oil over medium heat. Sauté shallots, leek and garlic for 3 to 5 minutes until soft, stirring constantly. If garlic starts to brown, reduce heat. Add wine and mustard, bring to a boil, cook for 2 minutes. Add mussels and cover pan. Steam for 5 minutes, shaking pan occasionally, until mussels open. Discard any that do not open. Season with salt and pepper, stir in parsley.
Divide mussels and cooking liquid among bowls and serve immediately with crusty bread to mop up juices.
Drink Pairings