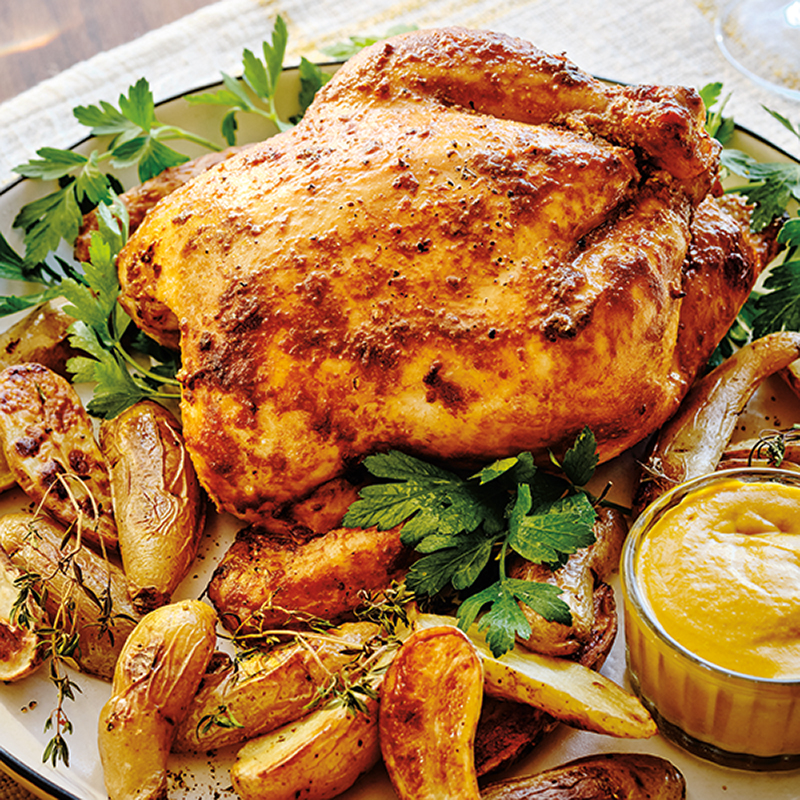 Mustard & Brandy Roast Chicken served with Fingerling Potatoes
Bold and rich, with the ability to add a bright and fiery flavour to an impressive array of seasonal dishes, mustard is a must-have pantry staple. Let's take mustard from the sidelines as a simple condiment to the star ingredient. This roast chicken recipe is elevated by the tangy taste of mustard.
Ingredients
Serves 4
2 tbsp (30 ml) hot English mustard powder
1 tsp (5 ml) finely grated lemon zest
½ cup (125 ml) unsalted butter, at room temperature
kosher salt and freshly ground black pepper, to taste
3 lb (1.5 kg) whole chicken
1¾ lbs (840 g) fingerling potatoes
hot English mustard, to serve
Instructions
Preheat oven to 400 F (200 C).
In a small bowl, combine mustard powder, lemon zest, brandy and butter. Season with a good pinch of salt and pepper. Mix with a fork until well combined.
Carefully loosen skin of chicken breast with fingers. Push butter mixture under skin and tie legs together with kitchen string. Place chicken, breast-side up, in a baking dish that just fits it and rub with oil. Place in oven and cook for 30 minutes.
Meanwhile wash and halve fingerling potatoes, then place in a large bowl and toss with some grapeseed oil, salt and pepper.
Once chicken has cooked for 30 minutes, carefully rotate it with tongs so it sits breast-side down. Return chicken to oven along with a clean rimmed baking tray to preheat before adding potatoes to tray. Warm tray in oven for 10 minutes then add seasoned potatoes in a single layer. Cook chicken and potatoes for another 20 minutes. With tongs, carefully rotate chicken once more to sit breast-side up and stir potatoes. Return chicken and potatoes to oven until both are golden brown and cooked through, about another 20 to 30 minutes. In the last 5 minutes of cooking add thyme to potatoes to crisp.
To serve, carve chicken and plate with potatoes and crispy thyme. Serve with hot English mustard.
Drink Pairings