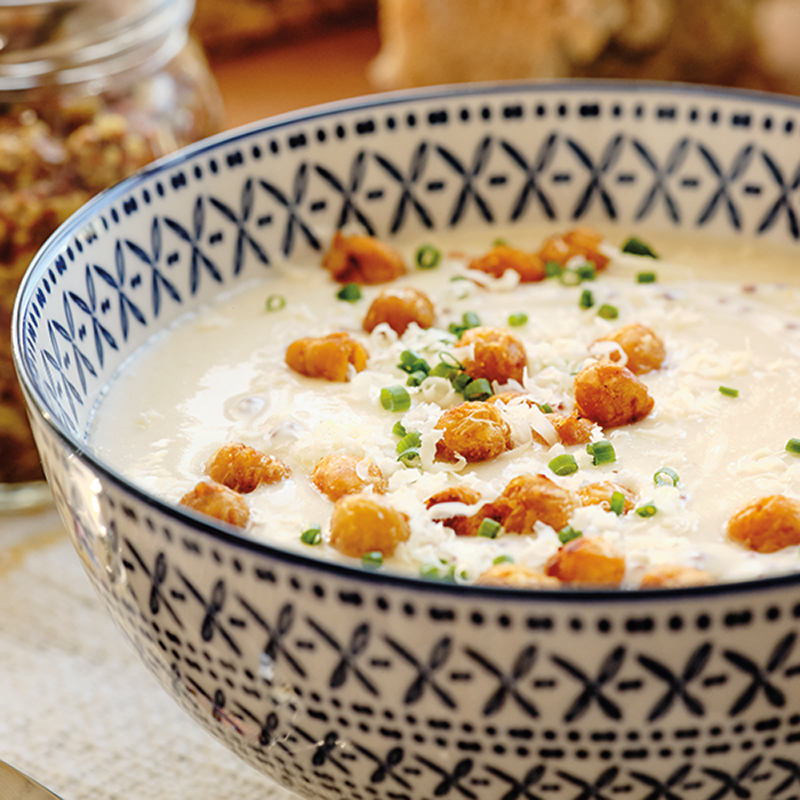 Mustard, Cauliflower & Cheddar Soup
Bold and rich, with the ability to add a bright and fiery flavour to an impressive array of seasonal dishes, mustard is a must-have pantry staple. Let's take mustard from the sidelines as a simple condiment to the star ingredient. A touch of mustard added to this creamy and delicious cauliflower soup gives it just the zing it needs.
Ingredients
Serves 4 to 6
1 x 14 oz (398 ml) can chickpeas, drained and rinsed
1 tbsp (15 ml) grapeseed oil
4 tbsp (60 ml) Dijon mustard, divided
½ tsp (2.5 ml) smoked paprika
3 tbsp (45 ml) unsalted butter
3 cups (750 ml) chicken stock
2 large parsnips, peeled, chopped into ½-in (1.25 cm) pieces
1 large cauliflower, about 2 lbs (1 kg)
1¼ cups (310 ml) whole milk
⅓ cup + ¼ cup (135 ml) whipping cream, divided
½ cup (125 ml) shredded strong cheddar, plus extra for serving
1 tbsp (15 ml) wholegrain mustard
chopped fresh parsley leaves or chives, for garnish
Instructions
Preheat oven to 375 F (190 C). Place a rimmed baking tray in oven to warm while it preheats.
In a medium bowl, toss together chickpeas, grapeseed oil, 1 tbsp (15 ml) Dijon mustard and paprika. Pour seasoned chickpeas onto hot baking tray in a single layer. Roast for 10 minutes, give a toss, then roast again until golden and crisp, about 10 to 15 minutes more. Set aside to cool on baking tray while making soup.
To make soup, in a large saucepan, melt butter over medium-low heat. Add onion and season lightly with salt. Cover saucepan and cook onion, stirring occasionally, until softened, about 10 minutes. Uncover and stir in garlic and cook for 1 minute. Add stock, increase heat to medium-high and bring mixture to a boil. Add parsnips and cauliflower, cover saucepan, reduce heat to low and let mixture simmer, stirring occasionally, until cauliflower and parsnips are very tender, about 30 to 40 minutes.
Remove saucepan from heat and stir in milk. In a blender, purée mixture in batches until velvety smooth. Return soup to saucepan and whisk in ⅓ cup (75 ml) whipping cream and remaining 3 tbsp (45 ml) Dijon. Remove saucepan from heat and whisk cheddar into soup until melted. Season to taste with additional Dijon mustard and salt.
In a small bowl, whisk together remaining ¼ cup (60 ml) whipping cream with wholegrain mustard. Set aside.
To serve, ladle soup into warmed bowls and garnish with a drizzle of mustard cream, crispy chickpeas, a sprinkle of cheddar cheese and chopped herbs. Serve immediately.
Drink Pairings