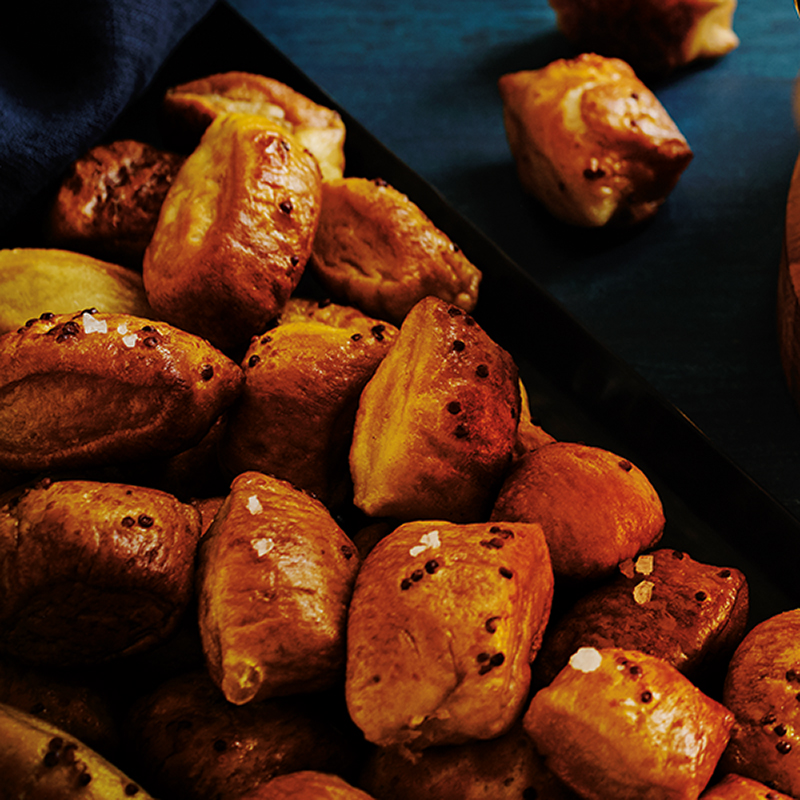 MUSTARD PRETZEL BITES
The perfect après treat: beer and cheese fondue with pretzel bites. Find the beer and cheese fondue recipe on our recipes page.
Ingredients
Serves Serves 4 to 6
1½ cups (375 ml) warm water
1 package (2¼ tsp/7 g) dry yeast
⅓ cup (75 ml) butter, melted
3 tbsp (45 ml) grainy mustard, divided
4½ cups (560 g) all-purpose flour
½ cup (125 ml) baking soda
1 tbsp (15 ml) whipping cream
2 tbsp (30 ml) coarse sea salt
Instructions
In bowl of a standard mixer fitted with a dough hook attachment, add water, sugar and yeast. Let mixture sit for 5 minutes.
Add butter, salt, 2 tbsp (30 ml) grainy mustard and flour and mix on low speed until combined. Continue mixing for another 10 minutes or until dough is smooth and elastic and pulls away from sides of bowl.
Take a separate bowl and grease sides with vegetable oil. Place dough in the bowl and coat it with oil. Cover with shrink wrap or a tea towel and let it rise in a warm spot until it doubles in size, about one hour. Alternatively, let it rise overnight in the refrigerator.
Preheat oven to 375 F (190 C). In a large pot, bring 16 cups (4 L) water to a boil. Once the water comes to a boil, reduce heat to medium and carefully add baking soda. This will make the water rise up, so be careful. Turn the heat back up to high. Line a baking pan with parchment paper
Divide dough into 8 equal pieces. On a lightly floured surface, roll each piece into a rope about 1-in (2.5 cm) thick.
Cut the ropes into 1-in (2.5 cm) pieces.
Drop 12 to 15 pieces of dough into pot, let water return to a boil then continue to cook for about 30 seconds. Remove pretzel bites with a spider or large slotted spoon and drain. Lay pretzel bites on baking sheet, leaving at least 2-in (5 cm) between each bite. Continue working until all pretzels have been boiled.
Mix egg, whipping cream and remaining grainy mustard. Brush pretzels with egg wash and sprinkle with coarse salt.
Bake pretzels until they are golden brown, about 10 to 15 minutes. Serve warm with fondue.
Drink Pairings