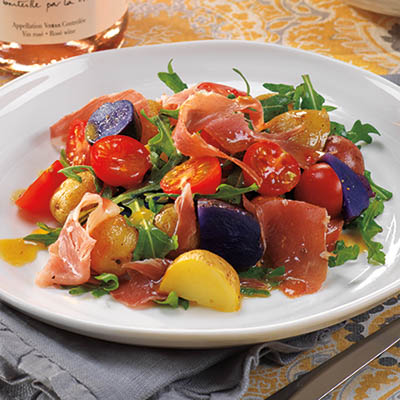 Ingredients
Serves 4 to 6
1½ lbs (750 g) yellow, red and blue baby potatoes
1 tbsp (15 ml) extra-virgin olive oil
¼ tsp (1 ml) each of salt and freshly ground black pepper
4 to 6 slices smoked prosciutto, torn into bite-sized pieces
½ cup (125 ml) green or kalamata olives
1 cup (250 ml) halved cherry tomatoes
¼ cup (60 ml) chopped fresh basil
2 cups (500 ml) fresh baby arugula, divided
4 tbsp (60 ml) extra-virgin olive oil, divided
2 tbsp (30 ml) red wine vinegar
1 tsp (5 ml) Dijon mustard
2 garlic cloves, smashed and minced
1 tsp (5 ml) fresh lemon juice
⅛ tsp (0.5 ml) crushed red pepper flakes
1 generous pinch of fennel seeds, crushed
1 splash of maple syrup or pinch of granulated sugar
Instructions
Preheat oven to 400 F (200 C). Line baking sheet with parchment paper.
Place potatoes in large bowl and drizzle with 1 tbsp (15 ml) oil, salt and pepper. Toss to coat. Then spread out on parchmentlined baking sheet in a single layer and bake in centre of oven for 15 minutes.
When potatoes have baked for 10 minutes, remove and stir in prosciutto and olives (pitted if desired), then return to oven to finish baking, about 5 to 8 more minutes. Stir occasionally and pierce potatoes with a fork, to be sure they are tender but still firm when done.
Meanwhile, in a large bowl, whisk together DRESSING ingredients, adding a splash of maple syrup (or pinch of sugar), to taste.
Halve some of the larger potatoes, if desired, and transfer with prosciutto to a large serving dish along with tomatoes and basil. Gently toss together to evenly coat with dressing. Add more seasonings to taste, as desired.
Fold in half the arugula and sprinkle remaining arugula onto individual servings before serving.
Drink Pairings