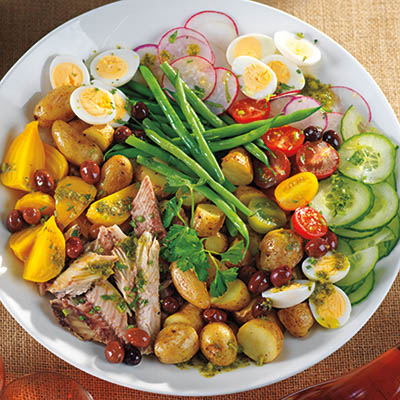 NEW NIÇOISE SALAD WITH SARDINES AND TARRAGON DRESSING
Ingredients
Serves 6
½ lb (250 g) small fingerling potatoes
salt and freshly ground black pepper, to taste
4 to 6 red or yellow baby beets
½ lb (250 g) French beans, trimmed and left whole or cut on diagonal
6 quail eggs, hard-boiled, peeled and halved
1 cup (250 ml) assorted heirloom cherry tomatoes, halved
½ English cucumber, unpeeled, thinly sliced into rounds
6 radishes, trimmed and thinly sliced
½ lb (250 g) smoked sardines, boned and skinned
1 cup (250 ml) Niçoise olives
½ tsp (2 ml) salt, or to taste
⅓ cup (75 ml) extra-virgin olive oil
¼ cup (60 ml) flat leaf parsley
2 tbsp (30 ml) chopped fresh tarragon
2 tbsp (30 ml) fresh lemon juice
freshly ground black pepper, to taste
Instructions
To prepare quail eggs, place eggs in saucepan and cover with water. Set heat to high and once water begins to simmer, gently roll eggs around in saucepan with a wooden spoon. Rolling will move yolk into centre. Bring water to a boil; boil for 3 minutes; then remove from heat and let stand in water for 2 minutes. Drain and cool eggs under cold running water. Drain. Gently shake saucepan so eggs roll around and shells break. Peel and cut eggs into halves.
Preheat oven to 375 F (190 C). Cut fingerlings into bite-sized pieces and toss with a little olive oil, salt and pepper. Spread on a parchment-lined baking sheet and roast in oven for 15 to 20 minutes or until tender but still firm. Remove and cool to room temperature
Meanwhile boil beets in saucepan with water until tender when pierced with a sharp knife, about 20 to 25 minutes. Drain, cool and peel. Cut into quarters.
Blanch beans in boiling water; drain and plunge into cold water to stop cooking. Drain and blot dry. Add with Quail eggs.
Halve tomatoes; slice cucumbers and radishes. Arrange all ingredients in rows on a platter. Refrigerate while making dressing.
To make TARRAGON DRESSING: Press garlic on cutting board with flat side of a chopping knife. Sprinkle with salt, mince and scrape salt and garlic together, forming a paste. Transfer paste to blender along with remaining dressing ingredients. Whirl until smooth and creamy. Scrape down sides of bowl a couple of times. Store in refrigerator until ready to serve. Can be made a few hours ahead.
Drizzle salad with dressing.
Drink Pairings