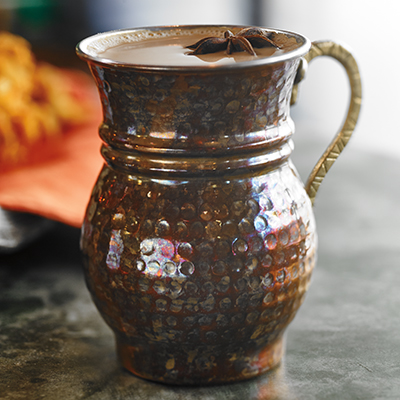 Ingredients
Serves 1
1 oz (30 ml) Green Cardamom Hennessy VSOP Cognac
1 bottle (750 ml) Hennessy VSOP Cognac
1½ tsp (7 ml) fennel seeds
2 tbsp (30 ml) white sugar
¾ cup (175 ml) whole milk
Instructions
Combine cognac with hot chai in a porcelain or metal cup. Serve hot.
To make GREEN CARDAMOM COGNAC: Place whole cardamom pods into bottle of cognac and reseal. Turn bottle upside down briefly to allow pods to mix. Stand bottle upright and leave overnight at room temperature. When ready to use, strain pods from cognac. Makes 3 cups (750 ml).
To make VIJ'S CHAI: Peel green cardamom skins halfway to reveal the dark brown seeds inside. In a medium-sized saucepan, combine water, peeled cardamom pods, fennel and sugar. Bring to a boil stirring constantly. Once water boils vigorously, add teabags and stir once, then boil for 2 minutes. Remove teabags and discard, reduce heat to medium and add milk. Continue to heat for 1 minute. Remove from heat, strain solids from tea. Serve hot. Makes 6 cups (1.5 L).
Featuring